Sedaru Announces Rebranding of Sedaru Software Smart Apps
Advancing utility management beyond "smart" operations.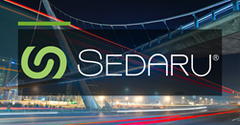 Sedaru, Inc., the industry leading provider of the Sedaru enterprise utility management software, announced a rebranding of their Sedaru software platform. Sedaru software is delivering operations management and network intelligence to utilities across the U.S., including some of the largest and most progressive.
Sedaru advances utility management beyond smart operations, incorporating and applying IoT-enabled sensor networks with traditional work management, driving the enterprise with a sophisticated simulation engine to optimize field and system operations, system capacity analyses, water loss management, leak & break response, dynamic asset management, and more into one, connected, cloud-based business operating platform for municipalities.
Sedaru OMNI - Operations Management & Network Intelligence, previously Command Center

Sedaru Fieldforce - enterprise field data collection, previously Sedaru Mobile

Sedaru Outage - turnkey leak management, previously Smart Outage

Sedaru Modeling - utility-focused system analysis, previously Smart Modeling

Sedaru Ops - real-time & predictive system operations, previously Smart Ops

Sedaru CIP - integrated, dynamic asset management, previously Smart CIP
"The rebrand of the Sedaru software platform better reflects how our customers use the Sedaru application, to unify and automate operations management and network intelligence, provide data access and collection in the field, analyze and predict network operations, optimize infrastructure planning, and more." – Kevin Koshko, Chief Product Officer, Sedaru
The new branding has been updated and introduced to customers in all cloud-based Sedaru applications.
About Sedaru:
Sedaru operates the world's leading utility management software as the singular, exclusive interface for utilities to access information, automation, and control of the business and assets they run. Sedaru Drives the Automated Utility, delivering value to our customers at every stage of their digital transformation.