BE-13 Renovation: Lining with Cured-In-Place Pipes - Processes - v01
The renovation of sewers and pipelines with "Lining with cured-in-place pipes" is an established standard construction method, starting with the planning process, through the production of materials and installation, right up to checking the quality achieved. It is characterised by a wide range of applications and a high variance in the fabrication and application processes. This module gives a detailed overview of the installation and curing processes in lining tube. Thus, this module creates the basis for an optimal process selection within the planning process and provides essential basic knowledge for construction supervision.
This module requires knowledge of the module "Lining with cured-in-place pipes – Basics".
After completing this module, you will have a sound knowledge of:
wall construction of the lining tube;
possible uses and applications of CIPP liner;
preparatory work, installation variants and the curing process;
advantages and disadvantages of the various curing methods and requirements for structural verifications.
Access is restricted.
Click here to be prompted for your credentials.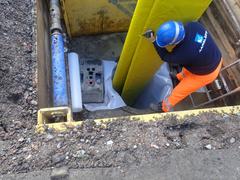 Publisher: Prof. Dr.-Ing. Stein & Partner GmbH, Editorial: STEIN Ingenieure GmbH (2022)
---
Domain
Renovation
---
Keywords
CIPP, Rehabilitation, Renovation
---