AE-02 Open cut method module: Installation of Pipes
The installation of water and wastewater networks is carried out around the world to a large extent in open cut construction. This module focuses on all of the relevant information relating installation and alignment of the pipes, backfill compaction, alternative backfill materials, and the removal of the shoring.
Upon the successful completion of this module, you will be able to:
identify and apply the main rules and regulations,
ensure a high quality of workmanship on site,
identify and assess construction errors, and
optimise the installation process.
Access is restricted.
Click here to be prompted for your credentials.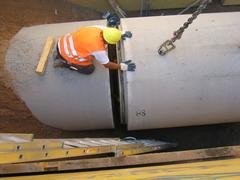 Prof. Dr.-Ing. Stein & Partner GmbH (2017)
---
Domain
Open cut method » New construction, open cut method
---