BE-02 Open Cut Method: Embedment Zone
The embedment consists of bedding, side filling and initial and main cover. The quality of the embedment is significantly influenced by the installation conditions of the pipes. Other topics of this module include flowable fill for trench backfill, optimized installation methods and compaction tests.
After completing this module, you will have a sound knowledge of:
rules and regulations;
requirements for the embedment zone and compaction of the trench backfill;
process sequences of the open cut method;
influencing factors to ensure high execution quality on the construction site;
recognizing and assessing errors in construction.
Access is restricted.
Click here to be prompted for your credentials.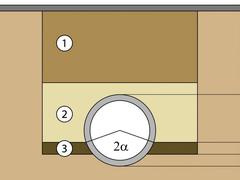 Prof. Dr.-Ing. Stein & Partner GmbH (2019)
---
Domain
Open cut method
---
Keywords
Open Cut method, Planning and design
---