WRAS Approval Renewed for Swing Check Valves
T-T Flow are proud to announce that they have been awarded renewal of accreditation from the Water Regulations Advisory Scheme Ltd (WRAS) for their range of Swing Check Valves (DN350-DN600).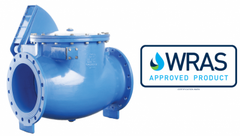 The fully WRAS approved range of Swing Check Valves (DN350-DN600) are used to prevent reverse flow and are suitable for potable water, wastewater and sewage applications up to 70°C.
Suitable for horizontal and vertical installation, this range features a unique lightweight ductile iron design with durable fusion bonded epoxy resin and provides easy access to maintenance. Other features include a positive drive between shaft and hanger, a guarded external arm and weight and ½" BSP air release as standard.
WRAS contributes to the protection of public health by preventing contamination of public water supplies and encouraging the efficient use of water by promoting and facilitating compliance with the Water Supply Regulations and Scottish Byelaws. Approval is granted directly by representatives of the water suppliers and is accepted as evidence of compliance by every water supplier in the UK. To qualify, the range of swing check valves has undergone rigorous mechanical and water quality testing.