West Ham to benefit from Thames Water's largest new sewer scheme
Thames Water will soon begin work on its most ambitious new scheme to protect Londoners from repeated sewer flooding. The £64m scheme, which is planned for West Ham, will help protect hundreds of homes and businesses from floods like those seen in July.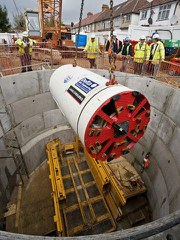 The works, which begin in October, will see sewers in the E7 postcode area upgraded, greatly reducing the risk of sewer flooding in times of heavy rainfall. Up to 530 homes and businesses are expected to benefit, after work is completed in around two years time.
West Ham was among those areas worst affected by the storms of 20th July 2007, with sewer flooding damaging 88 properties. It has also suffered from flooding  in the past, particularly in August 2002 and September 2004, when unseasonal rainfall overwhelmed the system.
Robert Griffiths, Thames Water's Project Manager, said:
"Sewer flooding is an unpleasant and distressing experience - it's vital that we make these improvements to reduce the risk of it recurring. This project  in West Ham is going to be the biggest project of its type that we're undertaking in London and it should protect hundreds of our customers. I want to reassure residents, traders and motorists that we'll do all we can to minimise any disruption."
Lyn Brown MP, for West Ham said:
"I have campaigned to get something done about the problem of sewage flash floods in West Ham, and am delighted that this multi-million pound project has been devised to alleviate the problem."

"Anyone in West Ham who has endured the misery of sewage flooding this summer, and in previous years, will be pleased to hear that this work is being carried out. I urge anyone with any questions about how this will affect them to go along to the meeting being held later this month, or to contact Thames Water directly."
Engineers will be enlarging the existing sewers in 46 roads within the E7 postcode, with much of work being carried out through underground tunnelling to minimise surface disruption to residents.
A new 3-metre diameter, 3 kilometre-long tunnelled sewer will pass underground from Forest Gate, down Woodgrange Road, along the top of West Ham Park, continuing along Vicarage Lane and Abbey Road ending near the Greenway. The pipe will be able to carry away excess rainwater runoff and sewage during storms, thereby preventing flooding back into streets and properties.
An information session for residents was being held on 19 September, from 4pm to 8pm, at During Hall Community Centre, Earlham Grove, Forest Gate, E7 9AB. Thames Water representatives were explainiing the project and answering any questions.
Roads (E7) included in project (October 07- autumn 09):
Aylesbury Close; Broadway; Bryant Street; Carnarvon Road; Clova Road; Densham Road; Dyson Road; Faraday Road; Hamfrith Road; Romford Road; Stratford Shopping Centre; Townley Court; Tramway Avenue; Warwick Road; West Ham Lane; Widdin Street; Atherton Mews; Atherton Road; Avenue Road; Beauchamp Road; Disraeli Road; Dorset Road; Earlham Grove; Eleanor Road; Glenparke Road; Grosvenor Road; Ham Park Road; Katherine Road; Kitchener Road; Knox Road; Margery Park Road; Marlborough Road; Palmerston Road; Prestbury Road; Rutland Road; Sebert Road; Shaftesbury Road; South Esk Road; Sprowston Road; St.George's Road; Studley Road; Upton Lane; Warwick Road; Whyteville Road; Woodgrange Road.
Contact information:
Thames Water Utilities Ltd
Don Sharples, Press Office
Swindon
SN38 1TU
phone: +44 (0) 118 373 8924
fax: +44 (0) 7747 644 364
eMail: don.sharples@thameswater.co.uk
Web: http://www.thameswater.co.uk