WEFTEC.06 is Headin' West!
Featuring 95 technical sessions, 25 workshops, 8 facility tours, and 900 exhibiting companies The latest in water quality research, technology, and services will be on display October 21-25, 2006 at the Dallas Convention Center in Dallas, Texas during WEFTEC®.06, the Water Environment Federation's 79th Annual Technical Exhibition and Conference.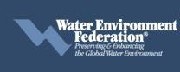 Ranked in the top 1% of all trade shows in North America, WEFTEC.06 is a mega-show that is expected to draw over 16,000 water and wastewater professionals and more than 900 exhibiting companies from around the world. Featuring a world-class technical program, WEFTEC offers water quality education and training available today and is a leading source for water quality developments, research, regulations, solutions, and cutting-edge technologies. Attendees can choose from 95 technical sessions, 25 workshops, and 8 facility tours to design their own, unique learning experience while earning up to 35 contact hours for continuing education units and 9 professional development hours.
"WEFTEC provides the perfect forum for water quality professionals to network, share expertise, and find solutions to water challenges facing their communities," said WEF President Michael Read. "This year's record number of abstract submittals, sold floor space, and high quality technical program promises one of the best shows to date."
Other conference highlights include the Opening General Session, Operations Challenge 2006, Water is Life, and Infrastructure Makes It Happen™ program update, AEESP/WEF Scientist Luncheon and Lecture, WEFTeach, Global Center, poster presentations, award presentations, student activities, and a new Utility Partnership Program.
About WEF:
Founded in 1928, the Water Environment Federation (WEF) is a not-for-profit technical and educational organization with members from varied disciplines who work toward the WEF vision of preservation and enhancement of the global water environment. The WEF network includes water quality professionals from 76 Member Associations in 30 countries.