WASSER BERLIN INTERNATIONAL 2013: Global water industry meets at four-day event in Berlin
From 23 to 26 April WASSER BERLIN INTERNATIONAL, one of the leading international trade fairs of the water industry, will be opening its doors in the German capital for the fifteenth time. Around 30,000 visitors representing business, science and politics are expected to attend and will be finding out about the latest technology and innovations, including many world firsts, from some 600 companies who are exhibiting in the display halls on an area of more than 40,000 square metres.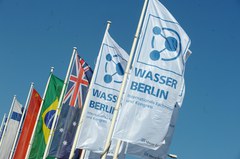 The range of topics is correspondingly large. It includes every part of the value chain, with subjects ranging from drinking water extraction, water supplies and pipeline construction to wastewater disposal and treatment.
WASSER BERLIN INTERNATIONAL has the bigger picture
The financial world, demographic change, population growth, climate change and international laws are the factors which currently dictate our day-to-day business operations. Water represents a global market. That is why water industry companies must adjust to a new order. In order to support this process WASSER BERLIN INTERNATIONAL is organising the fair to reflect the economic cycle of the water industry and take into account the areas that cross over into neighbouring sectors. For the first time there are six Competence Centres which deal with selected main topics. As independent sections their purpose is to provide an in-depth forum for raising issues and finding solutions and discussing the key topics at the fair.
Wide-ranging supporting programme
International attendance at the congress WASSER BERLIN INTERNATIONAL 2013 is higher than ever before. Taking place on 24 and 25 April 2013, its slogan is "The innovative concepts, measures and technologies of a forward-looking water industry." This event is organised by Verein Wasser Berlin e.V. Discussions at the four forums will centre on the economic cycle of the water industry, ranging from extensive surface water protection measures to wastewater treatment. Other highlights include the 8th International Symposium on Pipeline Construction and Schaustelle WASSER BERLIN INTERNATIONAL on 25 April 2013, where participants can find out first-hand about modern and innovative methods and the handling of building projects. On 24 April 2013 the programme of congress events at the first NO DIG BERLIN will be taking a look at innovative construction methods. In Hall 1.2 exhibitors will be providing information on trenchless construction technology. In 2011 the organisers succeeded in bringing the INTERNATIONAL NO DIG to Berlin. Now renamed NO DIG BERLIN, this specialist event will be continuing in a new format at WASSER BERLIN INTERNATIONAL. On 25 April 2013 the German Technical Association for Gas and Water (DVGW) and the Association of Companies in the Gas and Water Industries (figawa) will be holding a symposium on well construction – the ideal event to discuss the latest developments in geothermal applications and drilling using fracking technology. Numerous other events on selected specialist subjects will round off the programme of information.
High international attendance
In 2011 around one third of the exhibitors and trade visitors at WASSER BERLIN INTERNATIONAL came from abroad and the numbers are continuing to rise. There is a special emphasis on the countries in the Arab world. ACWUA, the association based in Amman representing Arab water companies from 17 countries, is the official partner of WASSER BERLIN INTERNATIONAL. Cooperation at the fair includes an Arab Forum devoted to water industry matters in this region. International forums in the display halls will also be taking a close look at individual markets. On 25 and 26 April the event entitled BLUE PLANET – Berlin Water Dialogues will be aiming to further a cross-sectoral dialogue between representatives of industry, research and German and international politics. This event is organised by Messe Berlin GmbH with the support of the Berlin Senate Department of Economics.
Support for young professionals
Qualified young professionals are much in demand in the water industry, which is why WASSER BERLIN INTERNATIONAL has made the Young Water Professionals Programme a regular event at the fair. An exchange and training programme, it targets up-and-coming engineers, scientists and students from Germany and abroad. It gives participants the chance to meet people and make use of a specially created job exchange for information on vacancies. Furthermore, on 26 April at the Career Day companies will be presenting themselves to the public and advertising career opportunities. On 26 April the Young Water Professional Conference, a new event, will be taking place at the International Forum in Hall 3.2.
WASsERLEBEN
Parallel with WASSER BERLIN INTERNATIONAL, WASsERLEBEN, an event for the public, will be taking place in Hall 5.2 and looking at the topic of water from every angle from ancient times to the present day. WASsERLEBEN targets all visitors who want to find out about the sustainable exploitation of water resources in an entertaining and fascinating manner and are looking for though-provoking ideas or inspiration for new and innovative projects. The focus of WASsERLEBEN is on adventure. 35 companies are offering children, young people and adults interactive events which invite them to take part, find out more and get involved. WASsERLEBEN has been recognised for its contribution to the UN decade of education for sustainable development. Some 10,000 visitors are expected to attend the event.
Contact
Messe Berlin GmbH
Susanne Tschenisch
Messedamm 22
14055 Berlin
Germany
Phone:
+49 (0) 30 / 3038-2295
Fax:
+49 (0) 30 / 3038-2296
E-Mail:
tschenisch@messe-berlin.de
Internet:
To website