UK hydropower projects gets underway
Full construction work on Scottish and Southern Energy PLC's (SSE) £140 million hydro electric scheme is now getting under way. Three tunnel drives have been mobalised.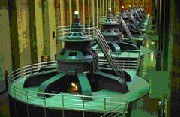 SSE has appointed Hochtief AG as the contractor for the construction of the scheme, and Jacobs Engineering Group to provide the engineering support and site supervision.
The proposed hydro development at Glendoe would be situated in the western end of the Monadhliath Mountains, east of Fort Augustus. It would involve the construction of a large rockfill dam at the head of Glen Tarff, approximately 1000 metres long, and 35 m high (max). The dam would impound a volume of 11.5 million cubic metres of water from a catchment area of approximately 75 square kilometres. This would be fed into the reservoir by a network of aqueducts and pipes.
From the dam the water would pass through an 8.5km hard rock tunnel, to a power station to be located in a cavern deep below Borlum Hill at the eastern edge of Loch Ness, to where the water would be discharged after passing through the turbines. Hochtief has mobilised and commenced three tunnel drives, with a 5 m diameter hard rock tunnel boring machine being delivered to site ready to start boring in September 2006.
The project will be the most efficient in the U.K. in terms of water to power production, generating enough clean energy, when operating at maximum capacity, to meet the needs of 250,000 homes.
The Scottish Executive's Scottish Climate Change Program is committed to raising the overall proportion of electricity generated from renewable sources in Scotland to 40 percent by 2020.
The Prime Minister, Tony Blair and Scotland's First Minister, Jack McConnell, recently visited Loch Ness to mark the start of construction work. The Prime Minister pressed the button which led to a controlled explosion on the hillside adjacent to the loch. The explosion was the first step in the development of the tunnels which will allow water from a new reservoir to reach the underground power station near the south east corner of the loch.
Up to 400 jobs will be created during the construction phase and the power station is expected to be generating electricity commercially from the winter of 2008/09.
This news was published with kind permission of
TunnellingForum.com
.