Two Herrenknecht Hard Rock Tunnel Boring Machines are ready for a large-scale water transfer project in Spain
The natural water basin "River Jucar Basin", with a surface of almost 22,500km², is located in the East of the Iberian Peninsula. It comprises the autonomous regions Castilla-La Mancha, Communidad Valenciana and Aragon. Beside important rivers such as the "Jucar", used for the supply of drinking water, the region has abundant groundwater resources.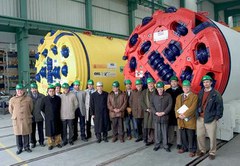 The area is one of the few regions in Spain where the water reserves exceed the local demand. The natural water basin is literally the source of the "Jucar-Vinalopo Water Transfer Project", a large-scale project of the Spanish government to improve the national water supply system. State-of-the-art tunnelling technology made in Schwanau is an integral part of this important project. Herrenknecht developed and manufactured two Double Shield TBMs, designed for excavation in hard rock formations, with an outer diameter of 3,370mm, ordered by the construction firms NECSO and OHL/UTE Cuesta Vinalopo. The hard rock machines will install 23.3km of the new water pipeline in dolomites, limestone, siltstone and marl. After its completion, the planned Jucar-Vinalopo Channel will annually transfer about 80 million cubic meters of water to the Mediterranean coastal areas to provide the local tourist regions optimally with drinking water.
In the four tunnel sections, with lengths ranging from 4 to 7.3km, the 170m long Herrenknecht machines can be operated in conventional or continuous mode depending on the ground conditions. Herrenknecht R & D engineers specially designed both TBMs for this operation. The TBMs are unparalleled in terms of design, as there are no Double Shield TBMs worldwide in this diameter range that are comparable in terms of efficiency.
Herrenknecht engineers had to integrate the complex process technology of a Double Shield TBM into a micromachine design, a real challenge with a shield diameter of only 2.95m. The advantage of the double shield technology is the versatility of adaptation to varying ground conditions.
In solid rock, these machine types can carry out ring installation behind the machine parallel to excavation owing to the special gripping process, leading to higher production rates. When entering and passing through fault zones, the operating mode is changed to conventional shield drive, providing maximum safety for the staff, the machines and the tunnel. To optimally prepare the cutterheads for the long drives in hard rock formations and to limit the number of cutter exchanges during excavation, the cutterheads were equipped with large 17" cutters. The maximum torque of the machines is 1,850 respectively 2,000kNm and the installed power 800 respectively 1,000kW. Up to now, such powerful machines have been unparalleled in this diameter range.
Following the workshop acceptance by representatives of the client and the contractors on the premises in Schwanau, the machines are currently being disassembled. Both Double Shield TBMs are scheduled to start tunnelling on the site in Ayora (in Greater Valencia) in spring.