Thames desalination plant to be powered by green energy - plant will run on bio-diesel from plants
Thames Water has confirmed it intends to run the proposed desalination plant in the Thames Estuary entirely on renewable energy.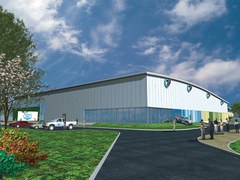 Plans have been drawn up to run the plant, which has been recommended for planning approval by the government's Planning Inspector, on bio-diesel, a liquid fuel made from plants. Thames Water is also investigating whether some of this fuel could in future come from reprocessing the discarded cooking fat and oil from homes, restaurants and takeaways, which often blocks London's drains.
The plant, which would be built on the north bank of the Thames at Beckton in East London, was the subject of a planning inquiry last year. The Government today signalled its approval for the plant, subject to an undertaking from Thames Water dealing with the requirement for an operating agreement. If approved, the plant will be the first of its kind in the UK, removing salt from water in the tidal stretch of the Thames to supply up to 140 million litres of water a day to London during times of drought.
Thames Water's Sustainability Director Richard Aylard said:
"We are pleased that the Government has recognised the importance of the desalination plant to safeguard London's water supplies. We are encouraged by today's decision and will comply with the Government's request to provide a further undertaking dealing with the requirement for an operating agreement.
"The desalination plant is an essential part of our proposals to safeguard future water supplies for London and without it we face an unnecessarily high risk of severe water shortages. Our original planning application made a provision that 10% of the plant's energy needs would come from renewable sources.
"As part of a company-wide review on how best to reduce our carbon footprint, we are investigating options for increasing our use of energy from renewable sources. We already provide more than 10% of our total energy needs from renewable sources, but we want to do more.
"We have recognised the Mayor's concerns about the environmental sustainability of the plant, and have made a commitment to provide 100 per cent of the plant's energy needs from renewable sources.
"By using Bio-diesel, from plant materials, we can provide all the power needed to run the plant."
Thames Water originally submitted plans to build a desalination plant in June 2004. The application was approved by the London Borough of Newham in March 2005, and in April planning officers from the Greater London Authority recommended approval. In the same month, the Mayor of London, Ken Livingstone directed Newham to refuse application. In July 2005, Thames Water lodged an appeal. A five-week planning inquiry began on 23 May 2006. A deferred decision to approve the plant was made by the Department of Communities and Local Government (DCLG) and Defra today.
Thames Water's region is home to 473,000 more residents today than was predicted in 1998 and a further 800,000 people are expected to move to London by 2016 – the equivalent of the population of Leeds moving to the capital.
London receives less rainfall than Rome, Dallas and Istanbul, but changes in lifestyle, including increased use of power showers and more single and low-occupancy households, mean that demand for water is still rising. The average water consumption per person in the Thames Water region is 160 litres a day.
Further information:
Thames Water
Nicola Savage
Tel: +44 (0)118 373 8921
Email: nicola.savage@thameswater.co.uk
Web: www.thameswater.co.uk