TEPPFA EPDs Receive a Makeover
Following a thorough revision, TEPPFA's Environmental Product Declarations (EPDs) for plastic pipes have received a new look, with an updated layout and design matching the new visual identity.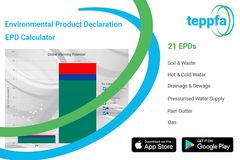 In addition to the EPD documents, the update applies to the TEPPFA online tool, called the
EPD Calculator
, where study findings are graphically summarized.
There is an increased demand for EPDs as their values are highly effective in determining products' sustainability footprint. As pressure increases to make our buildings more sustainable, these EPDs provide strong support around the benefits of lowering the overall carbon footprint. Within the TEPPFA EPDs, the environmental impact of each pipe material is assessed against seven different criteria across its full life cycle, namely: Abiotic Depletion (non-fossil), Abiotic Depletion (fossil), Acidification, Eutrophication, Global Warming, Ozone Depletion and Photochemical Ozone Creation.
Assessment of a comprehensive set of EPD indicators concludes that, from cradle to grave, the environmental impact of plastic pipe systems is lower for most applications and along the majority of criteria, compared to alternative materials.
Plastic piping systems perform outstandingly, when compared with ductile iron, copper and concrete systems, the latter of which also received a recent update of data. The new EPD format allows for communicating the value of the selected 21 plastic pipe systems more effectively, a useful business tool for members.
TEPPFA has made tablet versions of the EPD Calculator publicly available on the App Store and the Android Play Store, making it possible for everyone to download and make use of the comparison tool on their devices free of charge. Within the app, one can select the pipe systems application area, material and environmental impact criteria, as well as viewing the TEPPFA EPDs.
TEPPFA is working on three new EPDs, which will become available on all platforms in the near future.
About the EPDs
The EPDs are based on a collaborative study with two independent research institutes, VITO and Denkstatt GmbH. Data for the plastic systems is provided by the TEPPFA member companies using the Life Cycle Assessment (LCA) method. Data for the non-polymer alternative materials (ductile iron, copper, concrete) is based on publicly available figures. The EPDs are in line with the EN15804 and EN15942 standards.
Contact
TEPPFA aisbl
Avenue de Cortenbergh 71
1000 Brussels
Belgium
Phone:
+32 2 736 24 06
E-Mail:
info@teppfa.eu
Internet:
To website