Smart Sewer Crawlers Make For Smarter Inspection: More Customizable and Deployable
The past decade has seen smart technologies proliferate across a variety of products, helping us be more productive. Refrigerators place grocery orders for you. Smart thermostats learn your habits and adjust the temperature to save you money. Now, smart crawlers are helping make sewer inspection more productive, adaptable and reliable by implementing CANbus, a flexible digital control architecture already used in automobiles, aircraft and medical equipment.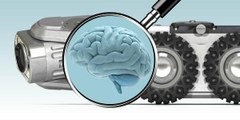 CCTV crawlers are the foundation of any sewer inspection program, but outdated, obsolete technology can undermine your efforts.
Now, a new breed of digitally enhanced crawlers is helping operators work smarter, not harder. ROVVER X is one of them, offering
Touchscreen controls that let you log observations and generate reports
A 6-conductor cable that reduces pulling strain and makes retermination simple
Macro functions to automate routine tasks
Onboard diagnostics to reduce downtime
Plug-and-play accessories for quick crawler configuration
In this FREE white paper, we detail the benefits that smart crawlers using CANbus provide to a sewer crawler platform and to your sewer inspection program. In addition, we walk you through what CANbus is and how it works in layman's terms.