Siberian Sewage Plant Rejuvenated with Penetron Technology
In March 2020, the new wastewater treatment plant in Irkutsk, Russia, took up operation again after a comprehensive, multi-year renovation and upgrade program. PENETRON ADMIX was used to provide the level of concrete durability required to withstand the exposure to aggressive chemicals and the Siberian climate.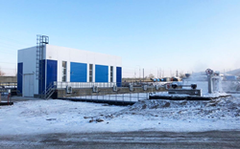 The largest city in Siberia and a major industrial center, Irkutsk is home to many manufacturing and engineering companies in the railway, aircraft, and metallurgy sectors. The city of about 640,000 lies at the confluence of two major Siberian rivers and endures an extreme climate of warm, wet summers and very cold, dry winters (annual temperature of 32°F/0°C).
The city's wastewater treatment plant, originally built in 1963, has undergone numerous repairs and upgrades over past decades. However, the increasing effluent loads and outdated sewage treatment technology have made a comprehensive renovation of the Irkutsk facility necessary.
"With plans to integrate Irkutsk with satellite towns to form a metropolitan area of over a million inhabitants, it was vital to expand the capacity of the plant," explains Igor Chernogolov, President of Penetron Russia.
Helping to Restore a World Heritage Site
The reconstruction project, part of a federal program to reduce pollution levels in Lake Baikal, a UNESCO World Heritage site, and the surrounding watershed, began in 2016. Penetron was asked to provide a sufficiently robust waterproofing solution, offering protection from the aggressive environment – both the effluent and the climate – and also providing the reinforced concrete structures with the much needed corrosion protection.
"The main threat to the Irkutsk wastewater treatment facility's concrete structures is constant exposure to the dissolved chemicals and toxic compounds and the local climate," adds Igor Chernogolov. "The brutal cold and resulting freeze-thaw cycles can quickly crack and expose reinforced concrete to chemicals in the effluent. This invariably leads to leaks, concrete deterioration and eventual failure of the structure."
Making Concrete Impermeable
The contractors added PENETRON ADMIX to the concrete mix for the facility's new sludge pits, primary and secondary sedimentation tanks, aeration tanks and the connector channels. Added during the batching phase, PENETRON ADMIX becomes an integral part of the concrete matrix by forming insoluble crystals, making the concrete impermeable. PENETRON ADMIX performs consistently throughout the life of the concrete, providing complete protection against concrete deterioration caused by chemical attack, freeze-thaw cycles and corrosion.
"Using an integral crystalline waterproofing admixture helped the contractor keep to the construction schedule – and minimize expenses for future maintenance for the operators," says Igor Chernogolov. "As a durable and permanent waterproofing solution, it will last for the lifetime of the concrete, virtually eliminating future maintenance of the facility's concrete structures."
The Penetron Group is a leading manufacturer of specialty construction products for concrete waterproofing, concrete repairs and floor preparation systems. The Group operates through a global network, offering support to the design and construction community through its regional offices, representatives and distribution channels.
Contact
The Penetron Group
45 Research Way, Suite 203
NY 11733 East Setauket
United States
Phone:
+1 631 941 9700
Fax:
+1 631 941 9777
E-Mail:
info@penetron.com
Internet:
To website