S & P Consult, Participation in German-Turkish Wastewater Symposium in Istanbul
The German-Turkish Wastewater Symposium and the corresponding cooperation forum "Treatment of municipal and industrial Wastewater", with over 100 participants, took place on the 22nd and 23rd October 2008 in Istanbul. The event was organised by the Chamber of Industry and Commerce Cologne (IHK Köln) and the Research Institute for Water and Waste Management (FiW Aachen) and supported / presented by the Turkish & German Chamber of Industry and Commerce.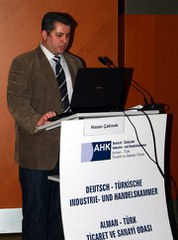 The main focus of the symposium was the survey of wastewater infrastructure systems in the area of municipal and industrial sewage in Turkey. In particular Turkish speakers were invited concerning this main expert topic, who shared and described their experiences with the current sewage situation in Turkey, the general legal conditions, the current and future investment plan and the financing of municipal and industrial areas. In summary the fact was established, that the rehabilitation need for the Turkish wastewater infrastructure is immense. In addition to this the growing environmental demand and awareness and the planned EU accession has led to a great investment willingness, so that the wastewater sector has become an excellent business area for German companies.
In return speakers from Germany determined and discussed the wastewater situation in Germany and presented new methods, techniques and monitoring systems and the according financing models to the interested expert audience.
The presentation of the products and services of S & P Consult GmbH (Bochum, Germany) by Dipl.-Ing. Hasan Cakmak produced a very positive reaction at the symposium. Especially the introduction of special services for the jacking monitoring with "CoJack" and large profile rehabilitation appealed very much to the audience. An interesting discussion, e.g. with the municipal drainage companies from the cities Istanbul and Bursa, amongst others, resulted in the extensive issue large profiles. Especially in this area the urgent and pressing need for action combined with great challenges emerged during the discussions and presentations. The Water- and Wastewater Symposium in Istanbul provided the opportunity to create and intensify contacts and have further conversations and discussions which all in all show the likely possibility of a cooperation in the near future.
Further informationen:
S&P Consult GmbH
Dipl.-Ing. Albert Hille
Konrad-Zuse-Str. 6
44801 Bochum
Tel: 0234 5167-0
Fax: 0234 5167-109
Mail: office@stein.de
Internet: www.stein.de
Contact
S & P Consult GmbH
44801 Bochum
Phone:
++49 234 5167 0
Fax:
++49 234 5167 109
E-Mail:
office@stein.de
Internet:
To website