RTG Rammtechnik GmbH hands over pile driver to thyssenkrupp Infrastructure
A strategic partnership was formed.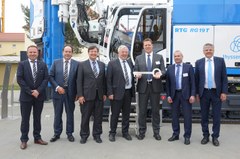 RTG Rammtechnik GmbH, a subsidiary of BAUER Maschinen GmbH, has handed over the first of four pile drivers to thyssenkrupp Infrastructure at the Bauer in-house exhibition in Schrobenhausen.
At the same time RTG and thyssenkrupp Infrastructure concluded an exclusive distributor agreement for the rental and direct sale of equipment in Germany, Austria and Denmark as well as a service agreement.
At the handover on April 23, 2018 both sides emphasized that above all customers will benefit from this strategic partnership between two market-leading companies.
Ideal partner found
"In RTG we have found our ideal partner," says Dietmar Jürges, CEO of thyssenkrupp Infrastructure. RTG has a deep understanding of the special requirements of civil engineering. Bauer's Construction segment already has a longstanding business relationship with thyssenkrupp Infrastructure. "Bauer's machinery manufacturing origins actually lie in specialist foundation engineering," says Bernhard Lindermair, Managing Director of RTG.
RG 19 T sets technical benchmarks
This know-how from specialist foundation engineering has also fed into the development of the RG 19 T which thyssenkrupp Infrastructure will rent to customers in the civil engineering sector in the future. The pile driver is extremely efficient.
Lindermair: "It is particularly well suited to heavy-duty, long-term use." The SilentVibro sound-proofed vibrator makes the equipment very quiet and thus ideally suited for use for example in city center projects. At the same time the Energy Efficiency Power (EEP) technology developed by Bauer ensures maximum energy efficiency at reduced fuel consumption.
Responsibility for service
Another three RTG drivers are to be handed over to thyssenkrupp Infrastructure this year and will then be available to customers in the four German sales regions, Austria and Denmark. thyssenkrupp Infrastructure will assume responsibility for customer and technical service for the equipment following intensive training of thyssenkrupp employees by the RTG experts.
First project
The inaugural project for the first pile driver is in Ludwigshafen. The RG 19 T will demonstrate its strengths in a residential construction project in the Rheinufer Süd district. The comparatively low-noise operation of the driver will be a benefit here as the construction site is in the immediate vicinity of existing residential buildings and a recreation area.
Fitted with the latest sound-proofing technology and monitored by measuring equipment, in Ludwigshafen it will drive up to 12 meter long sheet piles into the ground largely without vibration to shore a trench.