Robbins TBM goes on the fast track for Papua New Guinea tunnel
A 5.6 m (18.4 ft) diameter High Performance (HP) Main Beam TBM will be delivered on a "fast track" program just six months after contract signing. The Robbins TBM will be used for a series of dewatering tunnels at the Ok Tedi Mine in Papua New Guinea, with excavation beginning in the first quarter of 2008.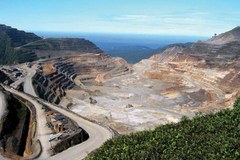 With the expedited program, required by the mine, it was necessary to utilize a re-manufactured TBM.  Previously, the machine bored the Little Calumet leg of the Tunnel and Reservoir Plan (TARP) in Chicago, Illinois, earning a world record for boring 2,163 m (7,096 ft) in one month.
Robbins will supply the TBM, back-up system, 19 inch cutters, and spares for the Ok Tedi tunnels, as well as field service personnel for TBM assembly and commissioning onsite. In total, three dewatering tunnels will be excavated at the mine, measuring 4.2 km (2.1 mi), 0.9 km (0.6 mi), and 1.2 km (0.7 mi) in length. All three tunnels are located in complex geology consisting of siltstone, intrusive porphyry, and limestone with possible fault zones and karstic structures. Rock strengths of up to 285 MPa (41,000 psi) UCS are expected, though the average is estimated to be 100MPa (15,000 psi).
Geological conditions will be verified using a probe drill capable of extending anywhere from 30 m (100 ft) to 100 m (330 ft) ahead. The results will be used to determine if any aquifers lie ahead in the bore path. Two roof drills will be used for tunnel support and are capable of installing 2.4 m (7.9 ft) long bolts in unstable areas. An invert thrust system will be used as the machine bores through fault zones. The machine will push off of the concrete invert to reduce the required gripper force against the tunnel walls.
The Ok Tedi mine is currently one of the world's largest suppliers of copper, but its open pit reserves are forecast to run out by 2013. Rainfall at the site averages about 10 m (33 ft) per year, necessitating additional drainage from the open pit beginning in 2009. Once complete, the new dewatering tunnels will extend the life of the mine by providing a high volume of drainage underneath the active mining application. In the future, the tunnels may also be used to identify further deposits of gold or copper.
Contact information:
The Robbins Company
29100 Hall Street
Solon, OH 44139
phone: +1 440 248 3303
fax: +1 440 248 1702
Web: http://www.therobbinscompany.com

Brianna Home
Marketing Director
phone: +1 253 872 4484
eMail: homeb@robbinstbm.com

Desiree Willis
Technical Writer
phone: +1 253 872 4490
eMail: willisd@robbinstbm.com