Robbins TBM completes drainage tunnels at Po Shan
A 3.5 m (11.5 ft) diameter Robbins TBM recently completed two drainage tunnels in Hong Kong without a conventional back-up system. Excavation of the short tunnels, measuring just 244 m (800 ft) and 165 m (541 ft) in length, concluded on March 17, 2008.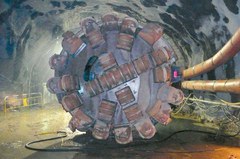 The Po Shan Road project is a landslide prevention project aimed at controlling groundwater accumulation during storms.   The tunnels, for the China State/China Railway JV, were TBM-driven due to the location of condominium buildings less than 50 m (164 ft) from the jobsite.   Boring restrictions in the heavily populated area also limited TBM excavation to eight hours a day.  During the night shift, Robbins-supplied maintenance personnel performed routine upkeep of the machine.
The majority of new design elements on the Robbins TBM were customized for the short tunnels and small jobsite.  The entire launch area for the machine measured 25 m (82 ft) wide x 27 m (88 ft) long, with the tunnel portal just 50 m (164 ft) from busy Po Shan Road.
Muck removal was accomplished using a series of conveyors on wheels, which emptied into a steel silo for removal by dump trucks.  Though slower than a conventional setup, the TBM still excavated a best day of 22 m (72 ft) in less than six hours.  Electrical transformers and control cabinets remained at the tunnel portal as the machine bored, connected by umbilical cables containing power and electrical control cabling.
Several hundred sub-vertical drainage holes are now being drilled from the inside of the bored tunnels.  Water will eventually be drained from the hillside into the drainage tunnels via these sub-vertical holes.  A modified drill rig and hydraulic hammer are being used to drill the holes and install slotted drainpipes. The amount of drainage needed will be continuously monitored using standpipe piezometers fitted with automatic loggers.  The meters will transfer data to engineering offices in real-time.  Water collected inside the tunnels will be channeled to a nearby public storm water drainage system.