Robbins TBM a repeat record-breaker
A Robbins 7.2 m (23.6 ft) diameter TBM operating on the remote Kárahnjúkar Hydroelectric Project in Iceland has entered new territory. The machine, operated by contractor Impregilo SpA, beat its own world record for the second time when it bored 115.7 m (380 ft) in 24 hours on August 25, 2007. It then set another record in its size class of 7 to 8 m (23 to 26 ft) by boring 428.8 m (1,400 ft) in one week! The previous record was also held by a Robbins TBM that excavated the TARP Project in Chicago, Illinois, USA.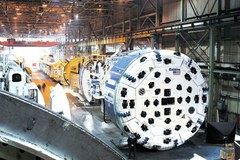 These feats are all the more remarkable considering the machine is on its second tunnel, having bored more than 15 km (9 mi) so far in very hard rock up to 300 MPa (43,500 psi) UCS. The machine previously bored an 11.1 km (6.9 mi) long section of the main headrace tunnel at Kárahnjúkar, breaking through in September 2006.
The machine's success highlights the longevity of all three TBMs used at Kárahnjúkar.  Another machine (TBM #3), has successfully bored nearly 20 km on its two previous projects and will now be used on a third 15.3  km (9.5 mi) long tunnel in China. All three Kárahnjúkar machines are HP (High Performance) TBMs, employing high capacity main bearings and 19 inch back-loading cutters to increase boring efficiency in hard rock over long distances.
"The Kárahnjúkar machines are a great example of what Robbins hard rock TBMs can accomplish if they are properly maintained. The TBMs have performed extremely well despite very hard rock and heavy water inflows encountered in the early stages of the project," said Joe Roby, Vice President of The Robbins Company.
Contact information:
The Robbins Company
29100 Hall Street
Solon, OH 44139
USA
Web: http://www.robbinstbm.com

Brianna Home
Marketing Director
Direct: +1 440 253 872 4484
eMail: homeb@robbinstbm.com

Desiree Willis
Technical Writer
Direct: +1 440 253 872 4490
eMail: willisd@robbinstbm.com