Restructuring of the SEKISUI SPR Group – Focus on pipe rehabilitation
The members of the Japanese SEKISUI Group engaged in the pipe rehabilitation sector will be appearing for the first time at IFAT ENTSORGA 2012 in a new structure. Under the management of Edmund Luksch the SPR (SEKISUI Pipe Rehabilitation) Group is pursuing a strategy by which all trenchless pipe rehabilitation products and services have been subdivided into continental companies along their value-added chain.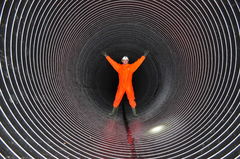 Effective 1 April 2012 the multinational concern has restructured its subsidiaries in the pipe rehabilitation sector within a new organisation. With the exception of Japan, which remains autonomous as the home market, all other SEKISUI pipe rehabilitation companies have been fused into the continental companies SPR Europe, SPR Asia and SPR Americas under the umbrella of the global SPR (SEKISUI Pipe Rehabilitation) Group. In future this will enable the company to cater for regionally differing demands in the pipe rehabilitation sector and extend the range of products and services to suit market and customer needs. In addition, this step will result in countless synergies, particularly in administration, technologies and employee know-how.
"We want to structure the companies more clearly and improve networking, to enable us to greatly benefit from one another along the product value chain," is how Edmund Luksch describes the goals of the SPR Group, for which he has been responsible since 1 March.
Expanded portfolio
Whether they are located in Europe, Asia with the Pacific Region or America: all continental companies will continue to focus on effective interlinkage in the production of individual technologies, construction services and sales competence.
Under the umbrella of the SPR Group the product portfolio will be significantly expanded and in the service sector the value-added chain further extended.
Besides manufacturing and installing rehabilitation technologies, in future the SPR Group will also be offering inspection, analysis and maintenance services for infrastructure grids and industrial plants.
The continental companies
The SPR Europe Group markets spiral-wound, cured-in-place methods and the Close-Fit lining for trenchless pipe rehabilitation in Europe. Its products are developed and manufactured by SEKISUI NordiTube, r.tec and Eslon. The technology is installed by the experienced KMG Pipe Technologies and Rabmer construction companies.
In North and South America SEKISUI NordiTube (production and sales of the NORDIPIPETM liner for the pressure market), Heitkamp (construction services) and SEKISUI SPR Americas (manufacture and sale of the SPR spiral-wound pipe liner for the wastewater market) have now fused to become SPR Americas Group, operated from Watertown, Connecticut.
SPR Asia with headquarters in Singapore covers the established markets of Singapore and Australia together with growth markets such as China and South Korea. The group also includes Australian spiral-wound pipe expert SEKISUI Rib Loc, the sales office in Singapore and a manufacturing company for the spiral-wound pipe liner in South Korea.
Contact
SEKISUI SPR Group
Lena Zemke
Julius-Müller-Str. 6
32816 Schieder-Schwalenberg
Germany
Phone:
+49 (0) 5284 / 705-405
Fax:
+49 (0) 5284 / 705-410
E-Mail:
press@sekisuispr.com
Internet:
To website