RELINEEUROPE AG Expands Board of Directors Willi Kröller assumes new management role on January 1st, 2010
The supervisory board of RELINEEUROPE AG is naming Mr. Willi Kröller as the newest member of the board of directors. Kröller, who currently is the managing director of Insituform Rohrsanierungstechniken GmbH, will join the board of directors of the newly founded systems supplier for sewer rehabilitation companies on January 1st, 2010.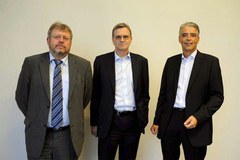 Willi Kröller has been working in the sewer rehabilitation industry for 20 years and has extensive experience with the technologies used, the project business, and the management and development of rehabilitation companies. "With Willi Kröller, we were able to recruit a renowned expert in pipe rehabilitation for our enterprise," says Bernd Flossmann, Founding Director of the Rohrbach/Palatinate-based corporation. "His expertise will be a great asset in the further development of the RELINEEUROPE group, both nationally and internationally."
Kröller will lead the new department of BUSINESS DEVELOPMENT, assuming responsibility for the cultivation of new fields of business both domestic and abroad, as well as for the selection of new technologies. Another focus of his activities will be the participation in standardization committees and panels. From January 1st, 2010, the board of directors of RELINEEUROPE AG will consist of Bernd Flossmann, Christian Noll, and Willi Kröller.
RELINEEUROPE AG is a recently founded enterprise with its headquarters in Rohrbach/Palatinate. As a systems supplier for sewer rehabilitation companies, it offers highquality trenchless rehabilitation technologies. The group of companies' core fields of business are the development, manufacture and sales of innovative trenchless pipe rehabilitation technologies as well as comprehensive customer services. The group comprises the companies RELINEEUROPE Liner GmbH & Co KG, RELINEEUROPE Equipment GmbH & Co. KG, and RELINEEUROPE Services GmbH & Co. KG.
Contact:
RELINEEUROPE Liner GmbH & Co. KG
Bernd Flossmann
Board of directors
Große Ahlmühle 31
76865 Rohrbach
PH: +49-(0)6349-93934-0
Fax: +49-(0)6349-93934-101
E-Mail: info@relineeurope.com
Internet: www.relineeurope.com