ombran MHP-SP 3000 defies the toughest conditions
MC-Bauchemie launches new high-tech mortar for sewerage structures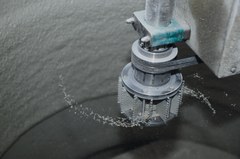 With ombran MHP-SP 3000, MC-Bauchemie has introduced into the market a new generation of mineral coatings for concrete and masonry manholes and sewers. Offering exceptionally high chemical and mechanical resistance, it meets the requirements of classification grade B2 / XWW4, the highest applicable to coating mortars according to the exacting German standard DIN 19573.
Sewerage structures are constantly exposed to high biological, chemical and, in particular, mechanical attack. As a consequence they can exhibit significant signs of wear and tear, and even real damage, after just a short time in service. Occasionally, such phenomena can jeopardise the entire structure and, in the event of leaks or functional failures, the environment as well. Instead of a costly full refurbishment, coating of the damaged manholes and sewers with a high-performance mortar will usually prove to be the more economical alternative. Applying a mineral coating to the manhole or sewer walls can serve to restore or improve the water-tightness, resistance and the static load-bearing capacity of the structure.
High resistance values
Newly developed ombran MHP-SP 3000 excels primarily through its optimised chemical resistance. It is based on CEM III high-performance cements that help elevate the product to the highest possible exposure class XWW4 according to DIN 19573. This goes beyond the requirements of the familiar exposure class XA3 for resistance to chemical attack according to EN 206, the more common standard cited in relation to concrete resistance. The higher exposure classification is based on an ageing test for 14 and 70 days during which the material is exposed to pH values of 0 and 1 respectively. Categorisation is effected on the basis of a comparison between the rated destruction of a reference mortar.
In this test, ombran MHP-SP 3000 produced outstanding results and was therefore assigned the highest resistance category for use under conditions characterised by pH values < 4. Continuous service under attack from biogenic sulphuric acid and the ensuing BSA corrosion is, however, not possible, as pH values < 3.5 – this is a more practical guide value – cannot be permanently resisted by mineral coating mortars. In such cases, the use of speciality coatings, e.g. the hybrid silicate coating ombran CPS, is required.
High chemical resistance is also promoted by minimised porosity and optimised pore size distribution in the mortar matrix. And this is where MC's patented DySC® technology is particularly beneficial as it ensures that the mortar matrix becomes ever more compact and consolidated even after normal hydration has ceased. This means the achievement of not only outstanding chemical resistance but also exceptionally high resistance to abrasion – with virtually no material loss under the standard test conditions known as Darmstädter Kipprinne (Darmstadt Tilting Trough Test – EN 295-3). Resistance to sulphate and carbonation is similarly excellent. ombran MHP-SP 3000 will also withstand extreme temperature cycling and both frost and de-icing salt attack.
Good application properties
ombran MHP-SP 3000 has been especially developed for automated application using the MRT process (Manhole Rehabilitation Technology) or with the new MRT-Truck from MC. However, it is equally suitable for spray and manual application. This high-performance mortar creates a very good bond with the substrate for reprofiling and coating applications, exhibits a high level of stability, even in large layer thicknesses, and can be quickly exposed to water. This means that recoated sewerage structures are ready for reuse after a curing phase of just a few hours. As a further benefit, the unique "identifier" technology incorporated in the product enables network operators and planning engineers to carry out a reliable check to determine whether the rehabilitation mortar applied is indeed the one that was specified.
Application with the MRT-Truck
The automated application of ombran MHP-SP 3000 with the new MRT Truck from MC means that sewer network operators and specialist repair firms can now coat manholes more easily, faster, more reliably and more cost-efficiently, while at the same time achieving enhanced, reproducible quality. A mobile, self-contained, integrated system for automatic manhole repair and rehabilitation, the MRT-Truck is available for hire to precisely such users. Weighing in at 12t, the truck has a staff room, its own on-board power, water and compressed air supply systems, a mortar mixer, a mortar pump and a complete MRT application and control system. The mortar – ombran MHP-SP 3000 – is applied by the centrifugal action of the MRT Spinning Unit, producing excellent rehabilitation results every time.
Contact
MC-Bauchemie Müller GmbH & Co. KG
Saki M. Moysidis
Am Kruppwald 1-8
46238 Bottrop
Germany
Phone:
+49 2041 101-640
Fax:
+49 2041 101-688
E-Mail:
saki.moysidis@mc-bauchemie.de
Internet:
To website