New Publication: Guideline for the Appraisement of Sewer Networks
The guideline that will be forthcoming in the German language is an essential assistance for network operators to appraise sewer networks both in detail and consistently. Only by a well-grounded assessment and evaluation of these installations can a proper and regular balancing be ensured. Furthermore, a strong balancing is the prerequisite for a sustained management of the drain and sewer systems in the sense of the existing inter-generation contract that results from the long-life cycle of those systems. Here, sewer operators have the possibility to carry out the necessary collections and evaluations of data either on their part or contract out the services - also in parts - to external service providers.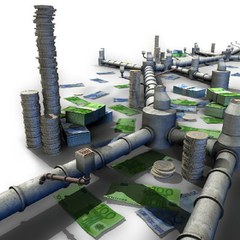 The external awarding to specialised service providers has the advantage that there is no need of having in-house members of staff available that possess the necessary and extensive specialist knowledge for those tasks. Due to the sensitive background of the valuation of property of drain and sewer systems, very high standards are to be set regarding the accuracy and actuality of the assessment. In the process, the results of an exact appraisement can and will normally differ significantly from the results with broad-brush approaches. Therefore generalised approaches should only be used for roughly estimated appraisements. The exact knowledge of the value of the drain and sewer systems ensures a realistic illustration of the actual asset values and the residual period of use of the networks. Thus an essential prerequisite of the new local financial management is met. In the sense of a forward-looking network management, planning instruments to forecast the development and effective control of the sewer capacity are explained beyond the assessment and evaluation of the actual sewer capacity to organise the actual and future investments for the maintenance of those systems efficiently in the sense of the inter-generation contract. This guideline is themed: "Only if you know your costs, you can manage them."
Published in German language by Frauenhofer IRB Verlag and Stein & Partner.
Kontakt:
S & P Consult GmbH
Konrad-Zuse-Str. 6
44801 Bochum
Germany
Tel: ++49 234 5167 0
Fax: ++49 234 5167 109
Email: office@stein.de
Web: www.stein.de
Contact
S & P Consult GmbH
44801 Bochum
Phone:
++49 234 5167 0
Fax:
++49 234 5167 109
E-Mail:
office@stein.de
Internet:
To website