New Hire Brings Unique Perspective
Flowtite® is excited to announce that Shah Rahman has accepted the position of Regional Sales Manager. He brings extensive technical knowledge and experience in pipe technology to the position, in addition to an unparalleled commitment to the industry and to the urgent improvement of our municipal water infrastructure.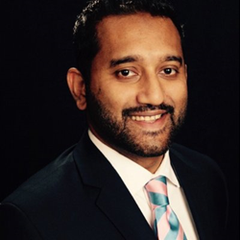 Thompson Pipe Group - Flowtite® is excited to announce that Shah Rahman has accepted the position of Regional Sales Manager. With more than 20 years of engineering experience in the field of water and wastewater technology marketing, sales, engineering and project management, he brings a special depth and breadth of knowledge to the task.
Shah holds a degree in Civil Engineering from the Virginia Military Institute and is currently completing his MBA studies at Southern Methodist University. His field expertise covers a range of pipe technologies, including steel and ductile iron, PVC and HDPE. He has considerable experience in carbon fiber composites, gasket and pipe joint sealing systems, joint restraint product development, chemical lining and coating development for corrosion protection, and SSES and rehabilitation design for wastewater systems. He currently has patents pending in the field of thermoplastic pipe joint systems.
In addition to engaging in both theoretical and practical engineering, Shah has been active for many years in a number of industry associations, including the American Water Works Association (AWWA), the American Society of Civil Engineers (ASCE), the Water Environment Federation (WEF) and the American Society for Testing and Materials (ASTM). He serves on several AWWA committees, including the Water Main Rehabilitation Committee, the Gasket Materials for Waterworks Service Committee and the Corrosion Committee.
Shah is Associate Editor for the ASCE, Journal of Pipeline Systems Engineering and Practice, and served in 2008 and 2014 as Technical Chair of the ASCE Pipelines International Conference. He has traveled all over the world sharing his expertise in municipal pipeline infrastructure at technical events in Europe, the Asia-Pacific Region, North and West Africa, South America and here at home.
Most recently, Shah served as Director of Trenchless Technology and Pipeline Rehabilitation for one of the largest pipe manufacturers in North America.
As Regional Sales Manager at Thompson Pipe Group - Flowtite®, Shah is responsible for marketing and sales in Oklahoma as well as the North, East and West Texas areas, bringing customers and colleagues alike the benefit of extensive engineering experience, broad industry involvement and a deep commitment to improving our water infrastructure - one pipe at a time.