New Ditch Witch JT100 Directional Drill Gives Power Where Power Is Due
The Ditch Witch® organization announces the release of its most powerful directional drill, the JT100 Mach 1. Equipped with a 268-hp (200 kW) engine, the JT100 is designed so that rotation, thrust, and drilling fluid flow can operate simultaneously at full power, which leads to faster job completion. With 100,000 lb (445 kN) of pullback and 12,000 ft•lb (16 270 N•m) of torque, the JT100 is a directional drill built for both long-range bores, such as river crossings, and installations of large-diameter pipe. The power of the JT100 allows for the addition of two optional features that can save the contractor significant time and money. One is an onboard crane, which is used to load and unload pipe boxes, anchor the unit, and handle downhole tools, especially drill pipe. Directional drills without an onboard crane require additional equipment, such as an excavator, to perform these functions. The other optional feature is an onboard anchor system—an exclusive Ditch Witch equipment option—that stabilizes the machine on virtually any terrain. Directional drills without this feature typically have to be anchored to another heavier piece of equipment, such as a backhoe or track hoe, to maintain stability during drilling operations.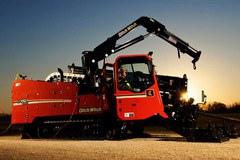 "Practically speaking, the onboard crane and anchor system together give the JT100 the ability to reduce the size of the jobsite," says Richard Levings, Ditch Witch organization product manager for trenchless applications. "This is a big plus considering the limited amount of space and other difficult conditions some projects present. [The crane and anchor system] also significantly reduce transportation costs and setup time."
Difficult conditions are not limited to the surface; below ground is where the majority of directional drilling challenges lie, such as rocky soil. The JT100, says Levings, is prepared for anything, starting with a heavy-duty, double rack-and-pinion thrust drive that is field-proven to push through the longest, toughest bores. Instead of a three-speed gearbox, the JT100 has an infinitely variable rotary drive that can match spindle speed and torque. "[The JT100] is the only drill in its class that can do this," says Levings. "This enables it to power through virtually any soil condition."
Another exclusive feature of the JT100 is a dual-pivot drill frame that allows for steeper entry angles without raising the tracks off the ground. This improves machine stability and keeps the operator's station level.
Because it is designed for long-range bores and installations of large-diameter pipe, the JT100 is equipped with a large-capacity, 230-gpm (870 L/min) fluid pump and larger-than-average hoses and fittings to help move drilling fluid downhole faster, which increases productivity. To minimize the shockloads associated with this large-volume fluid flow, the JT100 has a special dampener to reduce pulsation in the fluid course, which reduces vibration to the machine.
The JT100 has an exclusive assisted-makeup feature that automatically adjusts carriage thrust speed with rotation when making up and breaking out drill pipe, which minimizes wear on pipe threads and extends the life of the drill pipe. Ditch Witch drill pipe is already the longest-lasting pipe in the industry thanks to a special manufacturing process that results in greater strength and flexibility.
The Ditch Witch organization specializes in the design and manufacture of high-quality underground construction equipment. The company is a one-stop source for trenchers, vibratory plows, pneumatic piercing tools, backhoes, electronic guidance and locating systems, horizontal directional drilling systems, drill pipe, downhole tools, vacuum excavation systems, pipe bursting systems, excavator-tool carriers, compact utility loaders, compact utility attachments, pipe bursting systems, and the Zahn® family of power utility equipment.
All of these products are recognized around the world for their advanced design, rugged construction, long-term durability, ease of use, and reliability. This product line represents the most complete range of equipment for installing utilities underground and performing a myriad of landscaping tasks.
The Ditch Witch name is one you can trust for your equipment and financial needs. Ditch Witch Financial Services (DWFS) is a full-service provider, offering a wide variety of finance and lease options to meet your individual requirements.
Contact:
The Charles Machine Works, Inc.
Manufacturer of Ditch WitchÒ and SubsiteÒ Electronic Products
P.O. Box 66
Perry, OK - USA 73077
PH.: 580-336-4402
FAX: 580-572-5823
E-Mail: info@ditchwitch.com
Internet: www.ditchwitch.com