Local school kids name and design tunnel borer
Queensland Urban Utilities and Rob Carr Pty Ltd have congratulated local students for helping to name and design the tunnel borer for a $17 million water and sewerage project.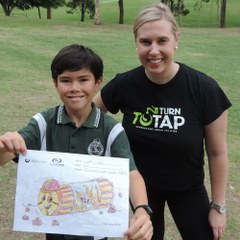 The cross-river pipeline from Kenmore to Jindalee involves laying a separate water main and sewer main inside a tunnel 10m below the Brisbane River. Queensland Urban Utilities spokesperson, Michelle Cull, said Year 3 students at four local schools were invited to come up with a name and design for the tunnel borer. "We received more than 200 entries from Kenmore, Kenmore South and Jindalee State Schools as well as Our Lady of the Rosary Primary School," she said.
"There were so many fabulous ideas, but there can only be two winners – and they were Olivia Harm from Jindalee State School and Luke Lau from Kenmore South State School. "Olivia creatively combined Kenmore and Jindalee to land on 'Kenji' as the winning name for our tunnel borer, while Luke's bright red and yellow flame design really caught our attention!" The design and name will now be painted onto the giant tunnel borer which will carve a 1.7m diameter tunnel underneath the river.
"Kenji is due to swing into action early next year. She'll be lowered by a crane into a shaft at Kingfisher Park, Kenmore before breaking rock deep below the river," Ms Cull said. "After around five months she'll pop out the other side, near the Jindalee Scout Hall." The project will also include 2km of new sewer mains and 600m of new water mains on the Jindalee side of the river. Once completed, the new pipeline will improve the reliability of water and sewerage services in the western suburbs.
Contact
Queensland Urban Utilities
15 Green Square Cl, Fortitude Valley
4006 Brisebane
Australia
Phone:
+61 3 9246 7775
Internet:
To website