Largest Surface Water Project in Rizal to Supply Water to 1M Residents
Manila Water has recently started operating the first phase of the P4.6 billion Rodriguez Water System Project which includes a new water treatment plant and water distribution mainline.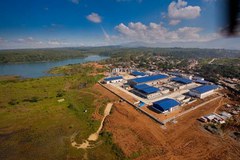 As the largest water system project built and energized by Manila Water in its 15 years of operations, the plant will address the current and long-term demand for reliable surface water supply of the municipalities of Rodriguez and San Mateo, in the province of Rizal, and some areas of Marikina City.
"This project marks our promise to bring excellent water quality and sufficient water pressure to our customers, especially to those who reside in elevated areas", said Manila Water president Gerardo C. Ablaza, Jr. "Providing safe and affordable water 24/7 to these communities will benefit the residents and support the area's economic growth," added Ablaza.
Upon completion, the system will serve as an alternate water treatment facility to the Balara Treatment Plant, the lone water treatment facility that serves the whole East Zone. The project will also support Manila Water's future expansion plans in other municipalities of Rizal, targeting to cover the province's areas with high elevation and sloping terrains.
Manila Water is the private concessionaire of the MWSS for water and wastewater services in Manila's east zone. The Ayala-led Company is an internationally acclaimed example of a successful public-private partnership and is recognized as among the world's best operators in water efficiency.
Contact
Manila Water Company, Inc.
489 Katipunan Rd.
1105 Balara, Quezon City
Philippines
Phone:
+63 (632) 981-8100
E-Mail:
info@manilawater.com
Internet:
To website