Interflow awarded a 3 year Sewer Rehabilitation and CCTV Inspections Project
Interflow has been award a 3 year Sewer Rehabilitation and CCTV Inspection Project by Lower Macquarie Water Utility Alliance (LMWUA).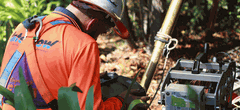 Interflow, Australia's market leader of Infrastructure renewals, will have its Canberra depot complete the project.
Interflow will internally inspect all pipelines, assessing the condition of each, in accordance with WSAA (Water Services Association of Australia) guidelines, and then work with the Alliance to develop the optimum program of sewer rehabilitation over the term of the contract.
The assessment and renewal program offers much more than the traditional clean and view service and is the ideal program for Councils to meet their Fit for the Future Asset Maintenance Ratio targets.
Geoff Weaver, Interflow's Managing Director says "Interflow has a long record of successful delivery of multiple term contracts similar in nature to this scope. Many of the term contracts have been continuously renewed for over a decade. We consider that this repeat business demonstrates satisfaction with both performance of our company and the long-term effectiveness of the solutions we provide".
Six councils from the Alliance will benefit from the assessment and renewal program – Coonamble, Narromine, Gilgandra, Warren, Walgett and Warrumbungle.
David Swan, LMWUA's Project Officer says "with Interflows approach to this project the Councils are able to work with Interflow from start to finish, there is no need to deal with multiple contractors to deliver separate contracts. Each Council will also maintain ultimate control in the process".
Contact
Interflow Pty Limited
254 Toongabbie Rd
NSW 2145 Girraween
Australia
Phone:
+61 2 9631 2444
Fax:
+61 2 9636 5475
E-Mail:
mail@interflow.com.au
Internet:
To website