Immense interest: Visitors to the 2006 PDAC in Toronto excited by the DMT digital drilling core scanner
Essen, March 20, 2006. At the beginning of March, Deutsche Montan Technologie GmbH (DMT) presented at this year's PDAC (Prospectors & Developers Association of Canada) the second generation of its "CoreScan" measurement system. And it was a resounding success: "The drawing power of our system was enormous. Following this, the world's largest industry fair devoted to mining exploration and investments, we have already received twenty serious inquiries," explains Dr. Jens Wiegand, DMT Product Manager. Among those interested are global players active above all in exploring potential reserves of diamonds, platinum, gold and non-ferrous metals.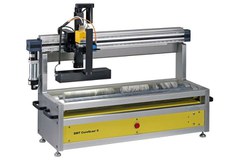 This gratifying visitor enthusiasm can be traced back to a technology unique to the industry - digital scanning of drill cores. Moreover, ongoing hunger for raw materials in China and India has triggered an enormous boom in exploration activity.
The portable system made by DMT is used to digitize and archive drill cores and to conduct analyses with the help of integrated software. Exploration teams can use LAN technology to access the central unit from anywhere around the world. They can, for example, query the database in which information on drill cores previously scanned and evaluated is stored.
"The sample is literally rotated beneath the scanner so that data for the entire circumference can be registered. This gives an exact picture of the substrates being studied. Rock faults, stratum structure, clefts, and porosity are analyzed and depicted accurately with our CoreScan system," Wiegand continued. Here the laser-guided, high-resolution camera with 40 pixels per millimeter provides in-depth insights into the geology.
The integrated software makes it possible to discriminate among the minerals present and to conduct quantitative analyses. The software can also differentiate by grain size. "With this application we can determine, for instance, the ore content within the core sample," the DMT expert explained.
With the assistance of the digital core sample library all the data previously scanned can be arranged both spatially and through time; individual images can be assembled to represent the entire length of the core sample.
At "Geo 2006", taking place in Bahrain at the end of March, DMT will be presenting the digital core sample scanner to experts in the petroleum and natural gas industry whereas exploration companies in the fields of ores and mineral resources were the prime target group in Canada.
"In order to serve the largest possible share of the market, we are also addressing the final repository and tunnel construction sectors and scientific deep drilling. Digital registration and evaluation of core samples is of use in all types of exploration since substrate data can be evaluated quickly and efficiently, regardless of the location," is Wiegand's view of the future.
Further information:
Deutsche Montan Technologie GmbH
Dr. Jens Wiegand
Am Technologiepark 1
45307 Essen
Dr. Jens Wiegand
Tel.: +49 201 172-1991
Fax: +49 201 172-1971
E-Mail:Jens.Wiegand@dmt.de
Web:http://www.corescan.de