HNTB Corporation deepens practice to serve growing tunnel and underground construction market
Key tunneling experts hired to help meet growth-oriented market needs; $70 billion in tunnel construction projects expected in North America in the next five years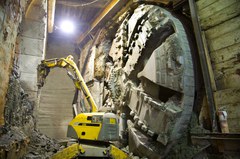 Much of the world is moving underground for utilities, transportation infrastructure, water and wastewater, storm protection, power and other systems. To meet current and projected demand, HNTB Corporation has expanded its tunneling practice, increasing its roster of industry veterans significantly in the past year, totaling over 100 professionals throughout the firm.
According to an IBISWorld report, the bridge and tunnel construction industry expanded even in the aftermath of the recession. Tunnel construction, in particular, is expected to continue increasing as city planners view subsurface structures as more efficient ways to use space, according to Nasri Munfah, PE, senior vice president and HNTB chair tunnel services. Industry estimates anticipate $70 billion in tunnel construction projects in North America in the next five years.
"In the United States, North America and Europe, increasing traffic congestion, dwindling right-of-way in urban areas, aging infrastructures are driving demand," he said. "In other parts of the world, demand for tunnels is due to high population growth, resulting in rapidly expanding urban centers and transportation and infrastructure needs."
An underground solution for urban growth
In the United States alone, more than 45 tunnel projects – from subways to sewers – are in design, according to a forecast from the Underground Construction Association of the Society for Mining, Metallurgy, and Exploration. Many of those projects underscore tunneling's ability to provide sustainable solutions to urban areas.
"Tunnels are important elements of our nation's aging infrastructure," Munfah said. "They are the preferred sustainable solutions to transportation dilemmas, providing critical multimodal linkage and access routes."
Taking advantage of underground space allows cities to accomplish progressively denser development while maintaining a less dense surface environment. Once operational, tunnels offer a second set of benefits that above-ground infrastructure cannot, such as superior environmental control and reduced power consumption. But, according to Munfah, those benefits are in addition to the asset's longevity.
"Tunnels and underground facilities have a service life in the hundreds of years," Munfah said. "They are economically superior on a life-cycle cost basis."
Tunnel construction is the answer to some funding questions
Tunnels and underground construction are becoming more viable solutions than in previous decades, due in part to today's environment of shrinking federal transportation dollars and increased emphasis on funding options.
"Highway tunnels are conducive to tolling, which improves an owner's ability for project financing and providing public-private partnership opportunities," said Jim Ely, senior vice president and HNTB chair toll services.
Tunnel industry veterans join HNTB
Munfah predicts the need for tunnels will only grow and says HNTB is well-positioned to address demand. The firm has added six industry veterans to its leadership ranks in the past year:
Mark Ramsey joined the firm as tunnel practice leader in the west and associate vice president. With over two decades of experience, he is a member of the Underground Construction Association of SME and the Transportation Research Board Tunnel and Underground Construction Standing Committee. He also served as the chairman of the 2010 North American Tunneling Conference. Ramsey is based in Santa Ana, California.

Raymond Sandiford, PE, F.ASCE, joined the firm as associate vice president and national geotechnical and foundation practice leader within the tunneling and underground engineering group. Prior to joining HNTB, Sandiford was geotechnical and underground chief engineer for the Port Authority of New York and New Jersey, where he directed major geotechnical and underground construction projects for more than three decades. During that time, he was responsible for post-9/11 restoration projects, including direction of all underground design for the reconstruction of the World Trade Center subsurface work. Sandiford is based in New York City.

Ruben Manuelyan, PE, joined HNTB as technical design manager for underground structures and brings over 40 years of experience in immersed tubes and cut-and-cover structures. Currently, he is helping to advance the Crenshaw/LAX Light Rail Transit System in Los Angeles by performing a technical review of the project's cut-and-cover stations and guideways documents. Manuelyan is based in New York City.

Thomas Richardson, PE, joined the firm as tunnel construction manager. Richardson has more than 30 years of experience in program management, design and construction management of geotechnical, tunneling and underground engineering projects, transit systems, water and sewage systems. He also is an experienced geotechnical engineer and an environmental engineer. Richardson is based in Arlington, Virginia.

Heiner Sander joined the firm as vice president and tunnel practice leader in the east. Sander has more than 30 years of experience in project management, and design and construction management of tunneling and underground engineering projects. Sander's experience includes the English Channel Tunnel between Britain and France, the State Route 710 Gap Closure Tunnel in Los Angeles, and the Tom Lantos Tunnels at Devil's Slide near San Francisco. Sander is based in Arlington, Virginia.

Arman Farajollahi, PE, joined HNTB as principal tunnel engineer and serves as senior technical specialist on the firm's complex tunneling projects. He has more than 22 years' experience in analysis and design of tunnels and underground excavations in both soft ground and hard rock for transportation, wet infrastructure and hydropower projects. He has provided engineering support services during the design and construction of more than 30 infrastructure projects located in the United States, Asia, Australia, Middle East and Africa. Farajollahi is based in New York City.
"The collective expertise of these leaders – in addition to our existing team of experienced staff – help meet the tunneling and underground needs of HNTB's national and international infrastructure clients," Munfah said.
In addition to new hires, HNTB chief tunneling engineer, Sanja Zlatanic, PE, recently was named secretary general of Associated research Centers for Urban Underground Space, an international, non-governmental organization dedicated to partnerships among experts who design, analyze and decide upon the use of cities' underground spaces. Her term runs through 2018.
Earlier this spring, Zlatanic also moderated a networking session during a UN-Habitat conference in Medellin, Colombia, which drew international attention. The presentation, titled "Equity and Equality Opportunities: Cities Think Underground," shared insights on issues that rapidly expanding cities face while implementing mega infrastructure and transportation projects.
Tackling the wolrd`s most visible tunneling projects
Staff additions not only position HNTB well for future projects, they add to the depth and breadth of expertise the firm brings to its current tunneling projects.
The firm's current tunnel and underground construction projects include: Sound Transit's University Link in Seattle; Washington State Department of Transportation's Alaskan Way Viaduct replacement tunnel in Seattle; Baltimore B&P tunnel; Los Angeles County Metropolitan Transportation Authority's Crenshaw/LAX Transit Project; Elizabeth River Midtown Tunnel in Norfolk, Virginia; Presidio Parkway tunnels in San Francisco; multiple New York City Transit and Amtrak tunnel projects as the result of Superstorm Sandy; and the Istanbul Strait Road Crossing Tunnel project in Turkey.
The Tom Lantos Tunnels at Devil's Slide – which opened in 2013 and was designed by HNTB Corporation – already have been honored with 15 industry awards, and more are anticipated.
Contact
HNTB Corporation
Brian Cox
715 Kirk Drive
64105 Kansas City, Missouri
United States
Phone:
+1 816-527-2056
Fax:
+1 816-472-5004
E-Mail:
brcox@hntb.com
Internet:
To website