Economical and Efficient Water Disinfection with LEDs
More environmentally friendly and less complicated disinfection of water using ultraviolet light-emitting diodes (UV LEDs)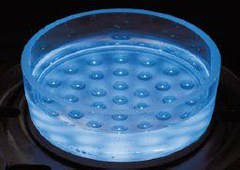 Researchers from the Ferdinand Braun Institute/Leibniz Institute for High-Frequency Technology and the Technical University of Berlin have worked to find more environmentally friendly and less complicated ways to disinfect water using ultraviolet light-emitting diodes (UV LEDs). This research was performed in the scope of the EU TECHNEAU project with financial support from Veolia Water. UV-LEDs do not need any warm-up time. In addition, they have long lifetimes and are very compact and non-toxic.
A UV-LED module with an emission wavelength of 268 nm was first developed for static disinfection tests. Deionized water, tap water and treated wastewater were inoculated with
Bacillus subtilis
spores and irradiated at different UV-C light doses. The subsequent analyses showed that the UV-C LEDs deactivated the spores of this bacterium at least as efficiently as conventional low pressure mercury vapour lamps. A subsequently developed, more compact module using UV-LEDs with an emission wavelength of 282 nm demonstrated the general suitability of UV-C LEDs for the disinfection of small volumes of water. Currently, the efficiencies are still in the low percentage range and the output powers in the milliwatt range. The scientists are now working to improve the performance and efficiency of the UV LEDs.
Kompetenzzentrum Wasser Berlin gGmbH
Cicerostraße 24
10709 Berlin
Germany
Tel.: +49-30-53653 840
Fax: +49-30-53653 888
Internet: http://www.kompetenz-wasser.de
e-mail: kontakt@kompetenz-wasser.de