Dorsey the TBM Breaks Through for Nicholson in Miami
After a ten-month, 5,200 foot long underground journey, Dorsey the ten-foot diameter Tunnel Boring Machine (TBM) made his much anticipated appearance on Fisher Island last month.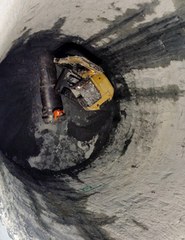 Dorsey's arrival marked a significant milestone for the Norris Cut project, which involved the replacement of an existing force main from the Virginia Key Central District Wastewater Treatment Plan (CDWWTP) under Biscayne Bay Norris Cut to Fisher Island.
The Miami-Dade Water and Sewer Department awarded Nicholson Construction the $72.1 million dollar design-build contract in January of 2014. Nicholson served as the General Contractor for the project, working closely with sister company and tunnel construction manager Bessac and tunnel design firm, ARUP. AECOM served as the primary consultant for the Miami-Date Water and Sewer Department.
"The Norris Cut Project has benchmarked the underground activity in Florida by opening new solutions for deep sewers in the porous Fort Thompson geological formation," said Bernard Theron, President, Bessac. "Thanks to the design-build approach, we managed to implement innovative solutions such as combining pipe jacking and universal segments, treating ground from the TBM to allow hyperbaric interventions." This is the second tunneling project for Bessac in the United States after successfully completing the Ellis Avenue Tunnel in Los Angeles.
"It has been gratifying to see us come together as a team to successfully work through a very challenging project," said Eloy Ramos, Project Manager, Nicholson Construction. "I'm proud to be part of this team."
The project is scheduled for completion by the summer of 2016.