Born To Perform: HOBAS Launches New Generation of GRP Pipes
When the going gets tough, HOBAS Pipes get going: With a brand-new product line, featuring a particularly durable inner protective layer, HOBAS now provides a top-notch solution for challenging projects that require a product beyond the ordinary. And that's not all: The standard centrifugally cast HOBAS GRP Gravity Pipe has also been further improved to suit a broad variety of applications even better than before.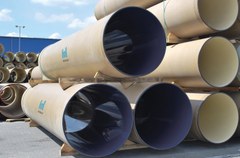 We have always offered a premium product, and thanks to the thorough market analysis and technical know-how of our HOBAS Experts, we have now managed to raise our quality level even further", say Claus Brun, Managing Director of the HOBAS Group. As a matter of fact, two major product developments have taken place at HOBAS in recent times. HOBAS Experts have developed a pipe system that resists abrasion, corrosion, and impacts extremely well and thereby eases project operators' minds throughout a long and maintenance-free service life. The new
HOBAS Top Performance Pipe
is equipped with an exceptionally durable inner protective layer made of polyurethane resin, the thickness of which is customized for each project individually, typically starting at 2 mm.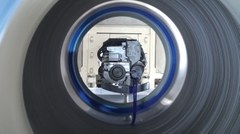 This special layer makes the pipe extremely resistant to abrasion, corrosion and impacts. Thanks to its particularly smooth inside surface, it also features excellent hydraulics and prevents sedimentation. With their special properties, HOBAS Top Performance Pipes are suited for a very broad range of challenging applications: From main sewers and sewers with retention function to drainage pipelines with very high slopes, culverts, efficient pressure pipelines, and industry applications.
Apart from the thickness of the inner protection layer, the wall structure of the centrifugally cast (CC) GRP pipe can also be customized for special project conditions. Comprehensive examinations in the internationally recognized HOBAS TechCenter in Austria confirmed the pipes' unique performance in e.g. long-term deflection and strain corrosion test settings. And the top-performing CC-GRP pipes have already proven their worth in real-life applications: In Switzerland, they help to safely transport storm water containing sharp-edged stones and debris.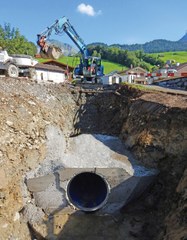 Almost simultaneously to the launch of the new HOBAS Top Performance Pipe, the standard HOBAS CC-GRP Gravity Pipe has been upgraded to the "next generation": The structural properties of the pipe wall have been redesigned, leading to a significantly better wet creep factors. A new resin used in pipe production further improves the durability and impact resistance of the pipe. And the new transparent inner liner features an even better bonding with the subsequent structural layer.
Claus Brun is excited about the future opportunities involved in the new product developments: "Our Top Performance Pipes are an absolute top-of-the-line product and I think it's safe to say that there is hardly any challenge they can't cope with. And our next generation of GRP gravity pipes is ready for a wide range of future projects to come."
Learn more about three initial projects that have been successfully implements with HOBAS Top Performance Pipes in the HOBAS® Case Study (pdf document).
Contact
HOASB Pipes International GmbH
Pischeldorfer Strasse 128
9020 Klagenfurt
Austria
Phone:
+43 (0) 463 48 24 24
Fax:
+43 (0) 463 48 21 21
E-Mail:
info@hobas.com
Internet:
To website