BorECO™ BA2000 polypropylene pipe material delivers on both infrastructural and environmental goals
The pipe grade BorECO™ BA2000 polypropylene (PP) from Borealis, a leading provider of chemical and innovative plastics solutions, was chosen for a recently completed upgrade and enlargement of a sewage network in the Czech Republic for bordering municipalities Ivancice and Oslavany.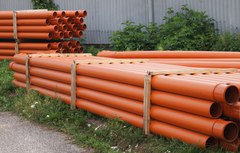 The sewage network owners aimed to reduce leakages and the risk of groundwater pollution from the existing system. The project involved the replacement of 26 kilometres of ageing concrete pipes which were corroded and cracked, as well as an extension of the waste water network to connect an additional 15% of households.
A reliable solution to replace traditional materials: BorECO™ Polypropylene
After careful consideration and taking into account the risk of ground movements in the former mining area, the network owners chose a PP pipe solution from leading Czech pipe producer, ELMO-PLAST, a.s. The company's EM-LINE PP SN16 solid wall pipe DN315 – DN600mm was selected for the main sewer lines and DN150 – DN200mm for the connections. The pipe material was based on Borealis' BorECO™ BA2000, exhibiting toughness, flexibility and highest durability. The unique properties BorECO BA2000 contribute to sustainable development of infrastructure projects and ensure a long, problem-free service life.
Material of choice
BorECO BA2000 allows pipe producers to manufacture heavy-duty pipes without mineral fillers and without additional investments in new production equipment, going beyond currently available stiffness. As a high molecular weight, low melt flow block copolymer, BorECO BA2000 runs very easily on existing pipe extrusion equipment and its adoption does not involve the pipe maker in any additional capital investment. It is the only material on the market without mineral modifiers reaching an emodulus of 2000MPa while maintaining a good impact resistance. The material meets and exceeds all requirements of the newly created S14 class in the revised EN1852 standard.
"I prefer BorECO BA2000 over mineral filled PP grades," says Mr. Martinek, ELMO-PLAST Owner. "Its high crystallinity provides a perfectly balanced combination of mechanical properties and its high modulus of 2000MPa enables the production of heavy duty pipes without need of mineral fillers."
Investing in effective water distribution systems
Borealis has been providing advanced polyolefin solutions for pipe and fittings systems for over 40 years. This has given the company unprecedented insight into all aspects of production, installation and use, and a strong focus on customer needs.
Borealis offers the industry a range of innovative polyethylene (PE) and PP materials. These include BorSafe™ medium density PE for small diameter pipes, BorSafe high density PE for large diameter pressure pipes and fittings, as well as BorECO PP grades for non-pressure underground drainage and sewer systems.
"The need for preserving our most valuable resource, water, is clear," says Jane Toogood, Borealis Vice President Business Unit Pipe. "We place great emphasis on delivering value to our customers through developing products and technologies that can help progress in infrastructure, economic development and environmental protection. A solution such as this is a direct result of the understanding we have built over the years and our involvement in the industry and its challenges."