Borealis promotes innovation in Italy's utilities sector
The importance of reliable infrastructure in the supply and distribution of essential goods such as water and gas took centre stage at a workshop for the Italian pipe industry organised by Borealis in Genoa, Italy on February 3, 2006. In many European countries water loss due to leakage in the distribution network remains a significant problem.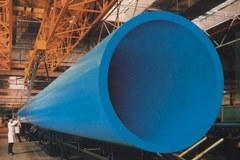 In the last few years the rate of loss has risen from 10 to 35 percent of the total volume of distributed water, the European Environment Agency reports.
Borealis brought together the major players in the Italian pipe chain, including local, regional and national authorities, pipe and pipe machinery manufacturers, converters, test institutes and infrastructure owners, to examine the key issues facing water and gas supply and define proposals to guarantee a qualitative utilities infrastructure.
According to Cino Serrao, Borealis Market Development & Public Affairs Southern Europe: "Co-operation between all the parties involved in the pipe chain for gas and water distribution infrastructure remains the most important way to ensure quality and innovation. The need for improvement is clear and at Borealis we place great emphasis on delivering value to our customers through marketing products and technologies that can help social progress, economic development and environmental protection."
Uplifting the networks' value in terms of installation, longevity, durability and conservation of the water and gas supply is a top priority. Whilst Italy is privatising its utilities sector, there is a clear need for rules to guarantee a minimum standard of quality. In certain Italian regions a loss of some 40 percent of drinking water through leaks and cracks in the water distribution pipeline can be noted, while 50% of the population of Mediterranean countries may face water shortages within the next 20 years, according to a report of the European Environment Agency. "In Italy, it is estimated that a significant 50 billion Euros are required for improving the water system and 4 billion Euros for gas." added Professor Alessandro Marangoni at the workshop.
Ways in which to guarantee the right investment and to ensure raw material producers and all parties in the pipe chain can provide the continuous quality and innovation required were the top-line discussion points at the workshop.
A summary of proposals was developed by the workshop teams.
Installation: the need for training and certification, independent quality control, a technical specification guide for installing plastic pipes, a directory of approved companies, a working guide for the selection of trenchless technologies, and installation and management contracts were among the areas identified as important to upgrading network quality.


Technological developments in pipeline materials: the use of plastics-based pipelines and the setting of supplier and product frameworks and specifications, certification and verification of suitable plastic materials, cost-effective pricing and controlled production plans for converters, were put forward to address quality and reliability issues.

Investment and project financing of private and public entities: the financial compensation by public administration for private investment in quality improvements to the infrastructure and the introduction of insurance bonds to guarantee normal and extraordinary maintenance, were highlighted as key considerations.


"As underlined by many of the participants, there is a market potential, there is expertise and there are economical and financial resources too. With this third workshop co-operation has begun", concluded Mauro D'Ascenzi, chairman of Federutility, the Italian association for the energy and water companies. "Co-operation across the whole value chain is needed and actions regarding investments and interventions necessary for this sector are essential to the quality and the innovation delivered for future generations."
Following this initiative, Borealis and the Italian pipe chain have set up a working group to develop a road map for actions and specific projects in the coming months and intend to present further practical recommendations in a water and gas supply white paper for authorities.
Borealis has more than 40 years experience in providing advanced polyolefin solutions for the manufacturing of pipe and fittings systems. With foresight throughout the value chain and a focus on customer needs, Borealis continues to provide innovative, value creating polypropylene and polyethylene solutions for the pipe industry.
Contact:
Borealis A/S
Liesbeth Denys
Trade Media Relations Manager
Tel.: +32 15 47 90 24
E-Mail:liesbeth.denys@borealisgroup.com
Internet:http://www.borealisgroup.com