Borealis promotes discussion on sustainable water solutions for Central and Eastern Europe
Croatia's water industry gathered in the country's capital Zagreb on December 2, 2008 to discuss potential solutions to the provision of long-term efficient water networks within the Central and East European region. The one-day conference, attended by more than 100 participants from utility and pipe installation companies, was organised by Borealis, a leading provider of innovative value creating plastics solutions, together with Heplast-pipe d.o.o. and Drnišplast d.d., leading Croatian producers of polyethylene (PE) and polypropylene (PP) pipes for public utility systems.The event examined the need for a sustainable infrastructure supply in light of increasing urbanisation and industrial development in the region, focusing on the benefits advanced pipe materials can offer.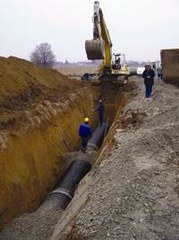 Experts from Croatia and abroad with vast experience and knowledge in the field of thermoplastic pipes in water supply and wastewater drainage systems included keynote speaker Dr. Širac, Deputy General Manager of Croatian Waters, who presented an overview of Croatia's water management strategy. Prof. Marangoni, Professor in utilities economics and management at Bocconi University in Milan, highlighted the importance of acting now to prevent further deterioration of Europe's system and the damaging implications for countries' industrial, commercial and environmental positions, as demonstrated by a market study Prof. Marangoni
1
had rolled out in Italy.
"Ensuring high quality, cost-effective and long-term sustainable systems in the face of Europe's ageing, leaking water infrastructure, climate change, increasing urbanization and population growth is a major challenge," comments Jane Toogood, Vice President Business Unit Pipe Borealis, who opened the conference. "This event provided an ideal platform for looking at the innovations and investments in the pipe industry that can contribute to addressing these issues."
A Whole Life Costing Model developed by Thames Water (UK) and Borealis has proven that thermoplastic pipes based on PE and PP materials provide the most long-term economical choice for ensuring technical, socio-economic and environmental advantages. The presentation of this research model was supported by reference projects highlighted by representatives of Međimurske vode and Borealis. Here, the toughness, durability and easy installation of PE and PP systems and the knock-on benefits for cost-effective and fast installation techniques that avoid major disturbances in busy traffic environments were demonstrated.
Mr Matjačić, Member of the Board of Heplast-pipe d.o.o. underlined the importance of domestic production versus the import of readymade pipes of traditional materials: "Croatian plastic pipe manufacturers offer high quality products and advanced solutions for pipe systems, and are reliable partners to Croatian investors in the construction of long-term sustainable water supply, gas supply and sewage systems."
"Croatia is undergoing rapid internal development", concludes Mr. Dičak, General Manager of Drnišplast d.d. "and the interest for greater discussion on the technical, economical and ecological advantages of thermoplastic pipe usage in drinking water, sewage and gas networks was reflected both in the large number of attendees and the numerous requests from non-attending customers for copies of the conference proceedings. We and our co-organisers are ready to provide the expertise and technical know-how to respond to the needs of the market."
1
Alessandro Marangoni: The benefits of pipeline innovation – The advantages of using plastics for the water industry in Italy
Contact:
Borealis AG
IZD Tower
Wagramerstrasse 17-19
A-1220 Vienna
PH.: +43 1 22 400 302
FAX: +43 1 22 400 333
E-Mail: kerstin.meckler@borealisgroup.com
Internet: www.borealisgroup.com