Barbera Education, Research & Training Facility
It is with much sadness that TTC is made aware of the passing of James (Jim) Barbera at the age of 79. Jim founded Barbco, family owned manufacturing business of trenchless installation equipment.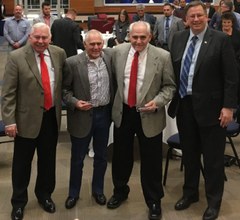 Jim impacted many individuals lives prior to his retiring about 10 years ago. As a result of his contributions to the trenchless industry, TTC awarded Jim and his brother Leo the first TTC Life Time Achievement Award in November 2018.
In addition, TTC is honoring the past while investing in the future of our industry by constructing the Barbera Education, Research, and Training (BERT) facility dedicated to the field training for:
Workforce development
Professional development
Train graduate and undergraduate students
Train college professors (2 years & 4 years)
Train union & non-union trainers
We are requesting that you join with us to honor Jim and the Barbera family for their commitment to this industry by making memorial donations to BERT.
Please click on the articles below for more details and how to make a donation:
Jim and Leo Barbera TTC Lifetime Achievement Award
BERT OVERVIEW AND INTRODUCTION
Contact
Trenchless Technology Center
Ph.D., P.E., Dist. M. ASCE, PWAM Tom Iseley
CETF Professor, Civil Engineering
1207 Agriculture Dr,
LA 71270 Ruston
United States
Phone:
+1 318-257-2000
E-Mail:
dtiseley@latech.edu
Internet:
To website