Baerlocher now main co-sponsor of PLASTIC PIPES XIX
Organizers of PLASTIC PIPES XIX Conference and Exhibition are pleased to announce that Baerlocher will co-sponsor PPXIX at the Main Corporate level. Further sponsorships have also been secured for the event that takes place in Las Vegas, US at the Red Rock Resort on the 24 – 26 September 2018.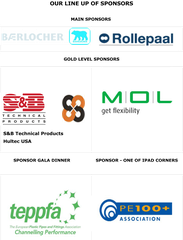 Sarah Patterson, chair of the PPXIX Organizing Committee (OC) for the Plastic Pipes Conference Association (PPCA) comments: "Our Conference and Exhibition has become a truly all-encompassing platform for reviewing the latest business and technical developments throughout all facets of the plastic pipe value supply chain."
"Baerlocher is one of the world's suppliers of additives to the plastic pipe industry. With a company history spanning more than 190 years, they have expanded their product portfolio into multiple materials and applications. Such an endorsement clearly indicates that our event in Las Vegas is gaining tremendous momentum."
Patterson also reports that Hultec and MOL have confirmed their sponsorship of the event as Gold level sponsors. "We are very pleased that these companies - both world names in providing sealing solutions to the plastic pipe industry - have affirmed their sponsorship," Patterson adds.
"Since its establishment in 1981, Hultec, also known as S&B Technical Products in the USA, continues to develop as witnessed by their numerous patents. MOL has expanded well beyond the early introduction of their system of 'two-rubber presses', in providing services that support the entire process chain."
Organizers of PLASTIC PIPES XIX are the Plastic Pipes Conference Association (PPCA). Information about further sponsorship opportunities and about registration, papers, and exhibition space can be obtained from: www.PPXIX.com
Contact
EVACON Conference Management and Consulting Ltd
Eva Ori
Hungary
Phone:
+36 30 951 4480
E-Mail:
eva@evacon.hu
Internet:
To website