AMIANTIT participates in ENEG 2015 conference in Porto, Portugal
From 1st to 4th of December 2015, the APDA (Associação Portuguesa de Distribuição and drenagem Water) hosted the ENEG (National Investment Managers meet Water and Sanitation) conference.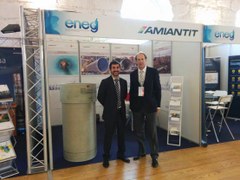 It took place in the Alfândega Congress Center in Porto, Portugal under the slogan – "Challenges and Sustainability in the Water Sector".
Amiantit participated in the exhibition area with a booth and presented a paper at the 3rd day of the conference meeting entitled " GRP pipes in water and sanitation Systems".
At the four days conference, important meetings with local authorities, companies and municipal water works from Portugal took place.
Contact
Amiantit Spain, S.A.
Eduard Baurier
Polígono Industrial La Venta Nova, 91
43894 Camarles (Tarragona)
Spain
Phone:
+34 977 / 470 777
Fax:
+34 977 / 470 747
E-Mail:
info-es@amiantit.eu
Internet:
To website