BE-02 Installation of water pipes, drains and sewers using the open cut method - v02
This course includes tutorial services and a final examination.
The installation of water pipes, in particular, drains and sewers is worldwide in large part performed using the open cut method. This at first glance "simple" construction method is actually highly complex when used in urban areas and at large depths. The numerous boundary conditions, shoring-, and installation systems require extensive technical knowledge in order to ensure a high quality workmanship.
The course consists of 5 modules on the following topics:
1. Geotechnical and hydrogeological Principles
2. Utility Trench Construction
3. Embedment of Piping
4. Installation of Pipes
5. Occupational Health and Safety around Excavations
After successful completion of this course, you will be able to: • Identify and apply the main rules and regulations; • Differentiate between soil types, to identify the effects of particle shape and particle size distribution on the soil properties, to assess the ground state with respect to its bulk density and soil consistency; • Identify the different manifestations of water in the subsurface, understand the effect of free moving underground water as a form of water permeability of the soil, and determine the water permeability of soil; • Determine the requirements for planning, tendering and construction of the utility trench along with the required shoring components and materials; • Identify various ways of constructing unlined trenches safely and within regulation; • Identify the various shoring/lining systems along with their limits; • Describe the open cut method of pipe installation; • Identify and assess construction errors; • Implement occupational health and safety measures for the open cut method.
This course is offered by the Prof. Dr.-Ing. Stein & Partner GmbH (Bochum) and STEIN Ingenieure GmbH (Bochum) in cooperation with UNITRACC.com. STEIN Ingenieure GmbH is a consulting engineering firm specialising in trenchless pipeline installation, rehabilitation and maintenance, as well as environmental technology. We are a subsidiary of Prof. Dr.-Ing. Stein & Partner GmbH.
Prof. Dr.-Ing. Stein provided essential foundations for a sustained management of drainage systems, as well as for trenchless installations of pipelines and their rehabilitation and maintenance. STEIN Ingenieure has its focus on this tradition and its intertwined objectives, as e.g. environmental protection, improved underground supply and disposal infrastructures - and with that an improved quality of life in our cities.
The complexity of this task requires interdisciplinary solutions. Our team of highly qualified professionals at STEIN Ingenieure is at your disposal. Our know-how in planning, construction, operation, maintenance, rehabilitation and management of water supply and disposal networks, as well as the mastery of all trenchless installation methods and pipeline rehabilitation are the key to our success.
In addition to consulting services and practice-oriented solutions we initiate and support a multitude of research and development projects. We advise and assist owners and operators in all fields of rehabilitation and maintenance management of their supply and disposal networks.
The visaplan GmbH, a subsidiary of Prof. Dr.-Ing. Stein & Partner GmbH, is your service provider for e-learning and knowledge transfer in the construction sector! Whether web-based product training, technical skills training, mathematical tools or sustainable education and training, visaplan GmbH and UNITRACC are the construction sectors leading concept and solution providers for web-based teaching and learning, particular in the field of underground infrastructure.
By combining experts from the fields of engineering, computer science and media development, we are able to offer all of the building blocks necessary for e-learning and knowledge management in the construction industry.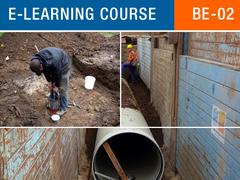 Difficulty
Beginner to Advance
---
Duration
30 hours within 4 weeks
---
Price
700.00 EUR plus VAT
---
Certificate
Participation: Participation Certificate / Examination: Certificate of Achievment