Wisconsin Wastewater Treatment Plant Upgrades with Penetron Concrete Waterproofing Technology
Construction work on the renovated and expanded Fort Atkinson (Wisconsin) wastewater treatment plant was completed in June 2023. PENETRON ADMIX SB, a crystalline concrete waterproofing admixture, was used to protect all repaired and new concrete structures of the new plant from the aggressive environment of the effluent.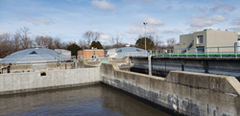 Fort Atkinson was first established in the early 19th century as a trade and transportation center along the Rock River (a tributary of the Mississippi River), about 50 miles directly west of Milwaukee. Today, it is a city of about 13,000 inhabitants. Because of its riverfront location, the downtown area floods occasionally when the Rock River exceeds its banks.
When the city's utility faced a deadline to achieve compliance with new phosphorous limits by mid-year 2023, the City Council of Fort Atkinson approved a $13.4-million project for the construction at the city's wastewater treatment facility.
Completed in 27 months, the project included replacing the previous raw wastewater grinders with new influent fine screens and wash presses, renovating the influent wet well, constructing a new headworks building over the existing wet well, replacing two influent pumps (and adding a fourth pump), and repairing two primary clarifiers and the aerations tanks.
Dodge Concrete, the ready-mix concrete supplier, collaborated with Penetron on an optimal waterproofing solution for the new and repaired concrete elements of the upgraded wastewater treatment plant.
"PENETRON ADMIX SB was specified for its ease of dosage and competitive pricing, as well as Penetron's level of customer service and technical expertise," says Steve Lulich, Vice President & Co-owner of Dodge Concrete. "The results were excellent, exactly as we expected."
Delivered in pre-measured soluble bags to simplify the batching process, PENETRON ADMIX SB is added to the concrete mix, which reduces concrete permeability, increases chemical resistance, and enables the self-healing of any new or future hairline cracks – enhancing durability and extending the service life of the plant's treated concrete elements.
The Fort Atkinson utility needed to meet the phosphorous limits deadline by June 30, 2023. All work, including improvements and new construction, was completed by Staab Construction on May 31, 2023, with the upgraded plant complying with the new environmental protocols by June 30, 2023
"Avoiding delays on this project was crucial," adds Christopher Chen, Director of The Penetron Group. "PENETRON ADMIX SB is easy to implement, simplifying the waterproofing and protection solution, which helped keep the Fort Atkinson project on schedule."
Contact
Penetron Group
Corporate Relations Department
45 Research Way, Suite 203
NY 11733 East Setauket
United States
Phone:
+1 631 941 9700
E-Mail:
CRDept@penetron.com
Internet:
To website