Wastewater Compliance Maintained at Locked Down Holiday Park
Wastewater treatment technology selected for use on a holiday park because of its ability to withstand seasonal variations in flow, has proven its flexibility during the unexpected events of 2020. The WPL packaged treatment plant was installed 15 the picturesque Home Farm Holiday Centre in the Quantock Hills, St Audries Bay, Somerset, in November 2015.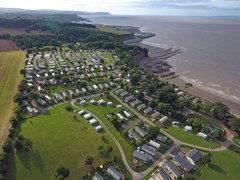 Five years on, the custom system continues to meet all environmental and operational requirements, providing high standards of treatment during high and low season. Its reliability has given site owners particular reassurance during a challenging 2020, when Covid-19-enforced lockdowns led to sudden and sharp changes in visitor numbers.
Proprietor of Home Farm Holiday Centre Louise Nethercott said: "We are very happy with the WPL system. It performs well, is simple to maintain and has passed all the environmental tests and checks. The nature of our business means we do have big fluctuations in visitor numbers, even more so this year because of Covid-19, and it has continued to provide reliable treatment, with no odour issues. We would certainly continue to recommend WPL technology to other businesses."
Managing lockdowns
Home Farm Holiday Centre is a family-run business, sited in a wooded valley at the foot of the Quantock Hills. On 26 March 2020, when it would normally have been welcoming high numbers of spring tourists, the business had to close its doors due to the first blanket lockdown in England, introduced by the UK government to stem the spread of coronavirus.
Occupation of the centre's 234 static caravans dropped to 10, which were occupied by staff and some private owners who were unable to return to their main residence. This remained the picture until 4 July 2020, when an easing of lockdown restrictions enabled the site to reopen. Approximately 125 caravans quickly became occupied, with the rest filling up gradually over the month.
The site remained busy throughout the summer and into the autumn, until 7 November 2020, when a second lockdown in England forced it to temporarily close its doors, this time for four weeks, during which only six units remained occupied.  Throughout all the lockdown periods, WPL's system, which includes two below-ground WPL HiPAF® treatment units, remained in operation, adjusting to the dips and peaks in wastewater volumes, as it would be expected to do during high and low season.
The adaptability of WPL's HiPAF system allows it to treat down to 10% of the site's capacity. At Home Farm, this is achieved through a flow-splitting device, which separates the effluent into two streams, allowing the system to switch between the two HiPAF systems during quiet periods or to use both at once, when flows increase.
Reliable treatment
It is essential for properties not connected to mains drainage to have reliable onsite wastewater treatment if they are to meet strict Environment Agency regulations. Not getting it right can lead to environmental pollution, resulting in a fine or prosecution, as well as reputational damage.
The reliability of WPL's HiPAF process, proven in the five years since installation, gave the site owners reassurance that the system would continue to comply with strict Environment Agency regulations concerning the quality of treated effluent discharged from the site.
Ongoing support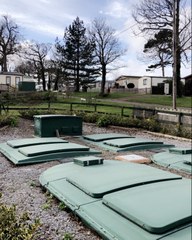 WPL offers ongoing technical advice to all customers post-contract and has been available to support local contractor and service provider WCI, which project managed the plant installation and services the plant three times a year.
WCI director Naomi Taylor said: "When we designed the new wastewater treatment system at Home Farm, we chose the WPL HiPAF because of the high level of flexibility and robustness of the process. Following the successful installation of the plant, we have maintained a good working relationship with WPL who have supported us with future projects."
Technical manager at WPL Dominic Hamblin, said: "It is good to hear WPL's HiPAF tanks are meeting all the expectations of Home Farm Holiday Centre, providing high quality wastewater treatment and environmental protection. The technology's resilient process effectively manages seasonal variations in occupancy levels, making it ideal for holiday parks such as Home Farm. 
"Many of our clients have had an uncertain 2020 due to the coronavirus pandemic, with significant fluctuations in visitor numbers. WPL's technology is designed to be flexible and agile and, if maintained and managed correctly, can continue to operate within compliance regardless of footfall. Ensuring our clients' specific treatment needs continue to be met after project completion is an important part of our service and we are always pleased to provide continued support."
Flexible treatment
The installation of WPL's HiPAF treatment units at Home Farm Holiday Centre was part of a project to replace its previous wastewater treatment system, which had reached the end of its operational life.
The project was led by local contractor WCI, which opted to install two HiPAF units to work in conjunction with two primary tanks. Hampshire-based WPL also supplied a control kiosk in glass-reinforced plastic, a flow-splitter chamber and two cylindrical final settlement tanks offering 30 days sludge storage at full capacity. The system was designed to meet requirements for 1,000 population equivalent, treating up to 99m3/day flow.
Minimal environmental impact
In addition to the system's flexibility, the modular WPL system was also seen as a low-maintenance, low-noise and low-odour option, with minimal visual impact that provided robust and reliable treatment within a tight site footprint.
Many other treatment plants have a separate primary tank which store settled solids and can emit odours. However, the HiPAF plant has no separate primary tank and is therefore odour-free.
Off-site build reduces installation time and cost and below ground installation means the plant does not impact views of the landscape. The system uses no chemicals during the treatment process and will safely discharge wastewater into the local environment where extra consideration is needed.