Trenchless technology, the sustainable solution when it comes to sensitive locations
Whether it be a culturally sensitive site, a heritage location, or simply an ageing infrastructure, working around the inherent challenges that come with these worksites can sometimes require very special care. Trenchless technology is all about mastering and making the most out of every aspect of these locations.
Tenchless Australasia takes a deep dive into Western Australia and how certain projects are prime examples of the versatility of trenchless technologies.
HDPE pipeline renovation in Cape Lambert and Paraburdoo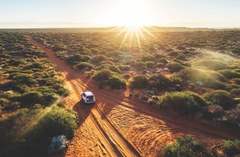 The benefits of trenchless technology for pipeline rehabilitation in culturally sensitive areas during two installations for one of the world's leading mining companies has been illustrated in Cape Lambert and Paraburdoo. The benefits of Primus Line were recently proven during two Rio Tinto projects using the technology in areas of cultural heritage sensitivity in Western Australia.
The first project took place near Cape Lambert and included the renovation of a 1500m long high-density polyethylene (HDPE) pipeline. The second installation was in the outback near Paraburdoo where a 1000m of cement-lined mild steel pipeline was rehabilitated. The liner comes pre-coiled on transport spools with a length up to 1000m or more and is inserted into the existing pipe.
Compared to traditional pipeline replacement, the carbon footprint in construction is reduced by up to 90 per cent. Trenchless methods are the perfect solution to overcome the challenges of pipeline works in areas of cultural significant importance and preserve them to traditional landowners, making sure that areas of cultural heritage sensitivity remain completely untouched.
Wastewater pipes refurbishment in the Merredin Shire
Merredin Shire's authorised contractor Allpipe Technologies has commenced work to refurbish ageing wastewater pipes. This refurbishment work executed by Allpipe Technologies is set to be completed by late July 2023 and will take place across the town of Merredin. Allpipe Technologies is working in both verges and/or roads, and in the boundary of private properties. Sewer relining uses trenchless technology to clean and refurbish existing wastewater pipes.
HDD boom in Fremantle
Recently Diversified has undertaken works with one of its long-time clients to replace the existing cast iron distribution network in Fremantle. The limestone rock ground conditions of this project presented several logistical challenges, but not insurmountable for Diversified with its newest Ditch Witch CEA machine – the AT32.
"The project involved 9000m of HDD installation and required a full turnkey solution. We undertook the installation of multiple HDPE conduits and manholes to house both fibre optic as well as earth grid network cables," Diversified's Managing Director, David Proctor says. Released in 2022, the AT32 boasts increased drill pipe capacity, allowing 137.2m of all-terrain pipe or 182.9m of dirt pipe with reversible pipe box onboard, boosting the productivity of any project. It also features a patented 'slide cartridge' which provides back-up for the carriage rollers, allowing operators to complete a job without stopping to replace failed rollers. The drill's 1200ft lbs of inner rotational torque allow for greater efficiency and better production in hard formations.
PST channels at Woodman Point
The Woodman Point Waste Water Treatment Plant in Munster, Perth, has experienced deterioration of the concrete structure around its channels due to a gas attack. Fixing the damage was broken into two stages. McRobert Contracting Services (MCS) was brought in on the first stage of the project, which required the lining of a channel totalling 12 lineal metres.
The success of the first stage saw Woodman Point engaging MCS to continue the work on the second stage. This required work on a further 16 lineal metres of channel with similar damage and included both an 'S' bend and four launder channel entries on the PST channel. MCS were called in to use its patented high-density polyethylene (HDPE) lining to restore the damaged infrastructure, which included the floors, walls, and roof of the channel, up to the horizontal deck. MCS used layers of 12mm HDPE striped to 25mm wide and fixed to the perimeter of the channel lining.
The process allowed them to extend the lining, including pouring high strength grout behind the lining and existing concrete surfaces.
Twin crossings of Hume completed in Port Hedland
DJ MacCormick Contractors has completed the twin crossings of Humes 1000mm reinforced concrete jacking pipe in Port Hedland, Western Australia. To complete the project, DJ MacCormick Contractors utilised the Iseki closed face slurry shield microtunnelling system. Ground conditions on site were in wet clay and at depths that ranged from 4m to 6m cover.
Of the six 1000mm drives completed, two drives of 46m were completed under Utah Road with an additional two drives of 152m under the BHP Rail also being completed. A further two drives of 80m under the FMG Rail line were also undertaken.
A seventh drive of 1800mm was also completed 112.5m under the BHP Rail, located nearby the Iron Bridge mine site. The total distance tunnelled for the project was approximately 668.5m.