Trenchless contractor puts maintenance hole relining system through its paces
Civil and trenchless specialists M Tucker & Sons showcases its expertise through a UV lining project.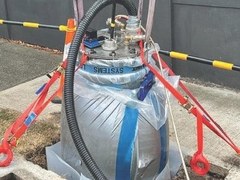 M. Tucker & Sons has rehabilitated a number of maintenance holes in southeast Melbourne. The company used the Brandenburger's BBS.8 maintenance hole liner – which it has exclusive installation rights to in Victoria, South Australia and Tasmania – combined with a Rausch Rehab UV curing system, and managed all aspects of the installations including traffic management.
M.Tucker & Sons is a family-owned civil and trenchless drainage specialist with more than 30 years experience in civil and trenchless rehabilitation, the company has a track record for delivering high quality pipe rehabilitation, asset management, relining and drain cleaning projects and is repeatedly called on in situations of high technical difficulty.
In 2022, the contractor added Brandenburger's maintenance hole relining system, BBS.8, to its suite of trenchless solutions, securing the exclusive installation rights to the product in its home state of Victoria, as well as South Australia and Tasmania. The addition of BBS.8 to its existing toolbox of trenchless solutions means that, in conjunction with UV GRP mainline liners, M. Tucker & Sons can supply a structural rehabilitation solution for an entire sewer system.
The company has recently been putting the product through its paces, with teams renovating aging stormwater maintenance access infrastructure on the outskirts of Melbourne. The company managed all aspects of the work as well as supporting services, such as preparatory and installation teams, high pressure cleaning, traffic guidance scheme design and the Memorandum of Authorisation required by VicRoads.
Tucker & Sons managing director Brendan Tucker says the company is proud to be at the forefront of this exciting trenchless technology.
"Sewer maintenance hole rehabilitation is becoming more and more known to be considered for trenchless rehabilitation," he says.
"We have also been assisting stormwater network owners with rehabilitation on some access structures in areas or environments that would be problematic to excavate and reconstruct. We are exited to have this system added to our existing range of services on offer for the maintenance or renewal of sewer and stormwater infrastructure."
BBS.8 is the world's first UV maintenance hole liner with the capacity to adapt to the shape of the asset, using only air pressure, without the need to pre-measure or laser scan the asset prior.
This eliminates the time required to measure the dimensions inside the structure, ultimately reducing the cost of the rehabilitation project and lead time involved in planning.
With specific installations procedures, BBS.8 is able to rehabilitate the chosen asset entirely including the bench, chamber, taper and neck in one homogenous liner, free of joints or stitching.
Contact
M. Tucker & Sons Pty Ltd
Mark Tucker
Owner/ Founder
20 Clancys Rd
VIC 3796 Mount Evelyn
Australia
Phone:
+61 3 9736 3439
E-Mail:
mail@mtuckerandsons.com
Internet:
To website