Tertiary Treatment Success Leads to Equipment Purchase
Technology from onsite wastewater treatment specialist WPL has been selected by Anglian Water to deliver enhanced ammonia removal at a major works.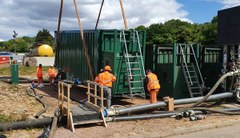 Five WPL Hybrid-SAF™ (submerged aerated filter) units are providing a level of tertiary treatment at Cliff Quay Water Recycling Centre,  Ipswich, to maintain the Environment Agency standards for ammonia removal. Anglian Water had hired the modular units from WPL on a temporary basis in 2019 but has now taken the opportunity to purchase them.
Installed downstream of the existing biological treatment plant, each unit is able to treat approximately 10 l/s flow when required. A proportion of the flows are pumped to the units, which connect to the site's existing final settlement tanks.
Each Hybrid-SAF unit achieves 10mg/l ammonia reduction, ensuring the site maintains the Environment Agency's ammonia effluent requirement of 50mg/l. The agency's regulations state the site must meet these standards at least 95% of the time.
WPL's utility manager Andrew Haywood said: "We are pleased to have completed the sale of five WPL Hybrid-SAF units, which have been successfully removing ammonia from partial effluent flows at Cliff Quay since the spring of 2019.  By initially providing the units on a hire basis, we were able to demonstrate their compatibility for this site, enabling the customer to maintain ammonia compliance in a relatively short space of time, whilst the longer-term capital solution is delivered.
"WPL has a long history of supplying SAF units to Anglian Water, with a framework agreement in place, and we were delighted to be part of this important project to maintain regulatory standards and offer greater protection to the environment."
Peter Joyce, Anglian's head of sludge treatment, said: "This was a successful project, undertaken to meet regulatory standards for ammonia removal at Cliff Quay Water Recycling Centre. WPL's Hybrid-SAF units play an important part in many of our sites maintaining compliance."
The modular design of WPL's Hybrid-SAF unit means they can be transported easily, are simple to install and operate on a "plug and play" basis. Units can be hired on a short or long-term basis, for reactive or planned works, with the option of purchasing at a later date.
When no longer in use, the units can be easily transported from site to site, as required.
Contact
WPL Ltd
Lianne Ayling
Marketing Manager
Unit 1 Aston Road
PO7 7UX Waterlooville
United Kingdom
Phone:
+44 2392 242 600
E-Mail:
lianne.ayling@wpl.co.uk
Internet:
To website