StormHarvester Joins Wessex Water in Biggest Ever AI Wastewater Network Rollout
UK water company Wessex Water is joining forces with award-winning artificial intelligence company StormHarvester in a world first to expand the use of AI to detect blockages across its entire wastewater network.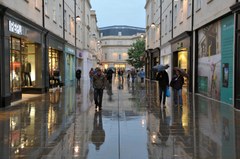 The deployment follows a successful trial in May 2020 and will be the most extensive to be rolled out in any wastewater network in the world.
Following this successful trial, Wessex Water has confirmed it will deploy StormHarvester's AI technology across its entire network over the next three years, as part of its commitment to continue providing high standards of sewerage services to its customers and the environment. The expansion will cover nearly 35,000 km of sewers and wastewater generated from 2.8 million people.
"We are very pleased to win the network rollout," explained Brian Moloney, StormHarvester's managing director. "This is the biggest commitment ever to deploy AI in wastewater networks, not just in the UK, but globally.
The agreement follows a trial in the city of Bath, to test the scope of AI and see whether it was possible to use machine learning to identify early-forming sewer blockages, mute unnecessary control room alarms and establish an operational basis for a shift towards condition-based maintenance. During the trial StormHarvester's Intelligent Sewer Suite detected over 60 early blockage formations in real-time.
"Our pilot showed 92% accuracy in identifying early forming blockages with zero missed and control room alarm rationalisation of 97 per cent. Our technology also identified at least two incidents that we are fairly confident would have resulted in Category 3 spillages, or worse. Numbers like these make for a strong business case for utilities."
Sewer blockages can lead to costly service failures including pollution and flooding events, but if spotted early enough, they can be quickly remedied. Wet weather makes it difficult to differentiate expected high sewer levels caused by heavy rainfall volumes from those arising from restrictions such as partial or total blockages.
By deploying AI with the capacity to differentiate between these different events, both an improvement in alarm quality and alarm rationalisation is made possible.
Jody Knight, asset technology manager, Wessex Water said, "We are really proud to be rolling out this innovative AI solution across our entire sewerage network. It's a huge step in our ambitions to significantly reduce blockage incidents and improve efficiency in our sewerage operations."
"We set out to test the ability of machine-learning to predict blockage formations in sewer networks early and intervene before they became service failures, better separate genuine control room alarms from alarms triggered because of high volume rainfall during wet weather and dramatically improve the response time to service failures. In short, the technology worked and exceeded expectations."
Artificial intelligence is a booming industry, with the global smart water sector alone predicted to be worth more than US$97 billion by 2030.
"This marks a genuine turning point for AI and machine learning in the water industry," added Jonathan Lavercombe, StormHarvester's chief operating officer. "Google chief executive Sundar Pinchai recently said that AI is more profound than fire, electricity or the internet, and I think the water industry can see the potential when pilots yield powerful and tangible results."