Research Shows Phosphate Removal Requires Holistic Approach
Water recycling specialist WPL will present the findings of a significant piece of research into phosphate removal at the European Wastewater Management (EWWM) Conference and Exhibition. The event takes place in Birmingham, UK, and online, on 28-29 September 2021, with challenges around phosphorus as one of its key themes.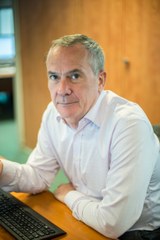 Around 783 new final effluent consents for phosphate removal are coming into force before 2025 as part of the Water Industry National Environment Programme (WINEP), more than ever before.  WPL, which is a WCS Group brand, plays a key role in supporting water utilities in meeting their consents. The company's technical team has undertaken a substantial review of the requirements imposed by the national regulators in England and across the UK.
Andrew Baird, technical director of WPL will highlight the outcomes of the review, which includes an assessment of the technologies suitable for unmanned works up to 5,000 population equivalent (PE), which can contribute to the total phosphate load in the catchment.
Baird said: "The regulatory landscape for wastewater treatment is changing and water utilities in England are finding themselves under closer scrutiny for phosphate removal. While wastewater utilities are not the only contributors to phosphorus in surface waters, being heavily regulated means compliance is king. There is no silver bullet technology for phosphorus removal. Not only are consents very specific to individual sites, they are also wide-ranging in terms of the levels of phosphorus that can be discharged. A holistic approach is required that allows the catchment to be reviewed in its entirety."
The presentation will highlight the latest technological and chemical-free developments being explored by the WCS Group and how existing equipment can help utilities meet their requirements. It will also explore best practice guidance for treatment plant operators and designers, including the value of data sharing and suggestions of how the regulatory landscape can be improved.
Another issue is the responsibility given to those local authorities with designated protected waters to restrict planning permission for new developments, unless they are proven to be nutrient neutral. The aim is to avoid impacting sensitive water environments with high levels of phosphate and nitrate from existing treatment works.
Further research being undertaken with support from Portsmouth University is looking at further low-impact ways to remove more than 65% of nutrients including phosphates. The aim is to reduce levels for utility, commercial and domestic customers, without the use of chemicals.
Baird said: "Meeting tighter phosphorus consents for England is a huge and costly challenge for the water industry, but the stakes have never been higher. Customers are increasingly aware of the importance of their water environment and their expectations are only going to grow. Climate change and population growth are only going to add to the challenge. The good news is that the wherewithal to meet rise to these demands does exist and a strategic collaborative approach will produce the outcomes required."
Contact
WPL Ltd
Lianne Ayling
Marketing Manager
Unit 1 Aston Road
PO7 7UX Waterlooville
United Kingdom
Phone:
+44 2392 242 635
E-Mail:
lianne.ayling@wpl.co.uk
Internet:
To website