RELINE APTEC Reinforces its Management
Andreas Bichler Appointed as Additional Managing Director for Specialist Supplier of CIPP Pressure Pipe Liners.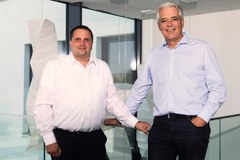 Effective as of 01 August 2020, Andreas Bichler will be assuming the position as technical director for RELINE APTEC GmbH, headquartered in Rohrbach/Palatinate.
Together with managing director Christian Noll, he will continue to develop the company with its innovative products and technologies.
Andreas Bichler has been active in the field of pipe and sewer rehabilitation for 27 year and has a great deal of experience, gathered during the many years he has been working internationally in this sector.
Mr Bichler first joined the company on 01 September 2019 as director operations and will now be taking on the responsibility of continuing to grow RELINE APTEC's business as a whole in his new role as technical managing director.
About RELINE APTEC
RELINE APTEC GmbH was founded on 01 January 2017 as a new entity under the roof of RELINE UV®-Group. The business offers UV curing GRP liners for the trenchless rehabilitation of wastewater pressure pipes. The acronym "APTEC", which forms part of the company name, stands for "Advanced Liner Technology for Pressure Pipes".