Primus Line® flies the flag for trenchless solutions in sensitive locations
Primus Line has illustrated the benefits of trenchless technology for pipeline rehabilitation in culturally sensitive areas during two installations for one of the world's leading mining companies.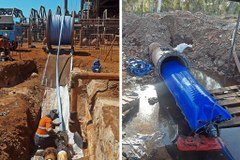 Trenchless methods, such as Primus Line, are the perfect solution to overcome the challenges of pipeline works in areas of cultural significant importance and preserve them to traditional land owners.
The benefits of Primus Line was recently proven during two Rio Tinto projects using the technology in areas of cultural heritage sensitivity in Western Australia.
The first project took place near Cape Lambert and included the renovation of a 1500 m long high density polyethylene (HDPE) pipeline.
The second installation was in the outback near Paraburdoo where a 1000 m of cement-lined mild steel pipeline was rehabilitated.
Primus Line is a flexible, safe and reliable pipeline relining technology that reduces earth movements to a minimum, usually only requiring two small construction pits at the beginning and the end of the pipeline section to be rehabilitated.
Thus, the areas of cultural heritage sensitivity remain completely untouched.
The liner comes pre-coiled on transport spools with a length up to 1000 metres or more and is inserted into the existing pipe by means of little equipment.
Compared to traditional pipeline replacement, the carbon footprint in construction is reduced by up to 90 per cent.
In addition, the liner installation causes only little downtimes and is completely free of hot works such as welding or butt fusion jointing.