Pioneering Water Projects Celebrated by Inaugural Lighthouse Awards
Leading organisations that have embraced innovation to protect and enhance water supplies have been recognised for their pioneering work.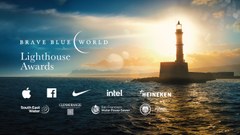 Corporations including Apple, Nike and Facebook, along with utilities such as South East Water, Australia, have been named as recipients of the inaugural Lighthouse Awards, launched in December 2020 by the Brave Blue World Foundation, a non-profit dedicated to scientific and educational storytelling. The winning Lighthouse organisations, named so because they are shining a light for others to follow, have developed new ways of utilising technology, finance or partnerships to reduce their impact in water stressed regions or build resilience of their local water systems.
Their groundbreaking achievements were discovered by the Brave Blue World Foundation during the research phase of its powerful documentary, Brave Blue World, which aims to drive positive change in water.
Brave Blue World Foundation founder Paul O'Callaghan said: "Every industry has a vanguard; the pioneers we will all come to follow. In water, the work of these Lighthouses is beyond critical if we are to ensure there is enough freshwater for future generations.
"When exploring the world for fascinating water stories during the making of Brave Blue World, we met several companies that were blazing a trail of innovation, as they strived to become sustainable and circular in their operations.
"Wanting to celebrate and amplify their achievements is what led us to launch the Lighthouse Awards. In doing so, we hope to inspire others to take bold steps towards creating a sustainable water future and raise greater awareness of the fascinating work happening in the global water community."
The winners' selection process, carried out by adjudicators from technology market intelligence company BlueTech Research, was based on a number of criteria and split into project themes.
These included blue-green infrastructure, water reuse, smart water, water catchment enhancement, regeneration, innovation in policy, innovation in communications and innovation in partnerships.
The recipients of the Lighthouse Awards 2020 are:
Nike - Through partnership and engagement, sportswear multinational Nike has encouraged its suppliers to explore ways of reducing water used in their manufacturing processes. This has enabled knitted textile supplier, Vertical Knits, to introduce innovative water recycling and manufacturing process improvements at its site in Yucatan, Mexico, reducing freshwater use by 85% per kilogram of fabric. It has also achieved a 50% reduction in energy savings. The project will significantly reduce Nike's overall water footprint, as well as the ease the impact on supplies at a local level.
Salesforce - Salesforce, the global leader in CRM (customer relationship management), collaborated with the City of San Francisco and Boston Properties to implement a blackwater system in Salesforce Tower San Francisco, the company's worldwide headquarters, making it one of the first partnerships in the United States between a city government, a building owner and a tenant to support blackwater reuse in a commercial high-rise building. In Salesforce Tower, wastewater will be collected and treated onsite and works in tandem with the building's rain catchment system. Once treated, the recycled water will recirculate through a separate pipe system to serve non-drinkable uses in the building for all tenants, like drip irrigation, toilet flushing and cooling towers. The system will be the largest onsite water recycling system in a commercial high-rise building in the United States, saving more than seven million gallons (approximately 26,500 m3) of fresh water a year. If these techniques become standard in urban areas, the impact on water resources will be significant, particularly in water-scarce and growing areas such as Miami and Las Vegas.
Facebook - Prompted by relentless drought in the region, the Menlo Park, California headquarters of social media giant Facebook developed an onsite blackwater recycling system. The Menlo Park system recycles approximately 17 million gallons (approximately 64,000 m3) of water annually between two buildings, setting the standard for commercial building recycling across the region. This is the first and largest district-scale blackwater recycling system in a commercial building in California.
Apple - When examining how best to meet the water needs for its data centre in Prineville, Oregon, technology leader Apple realised that one of the drivers of water stress in the basin was seasonal availability. Both the City and Apple faced a challenge in meeting their peak summer water needs, when the largely agricultural region also faces high demand. Apple partnered with the City of Prineville to explore the feasibility of an aquifer storage and recovery project, which would withdraw small amounts of groundwater evenly thoughout the year and store it for use during the summer peak, or even across years in the case of drought. Apple funded the US$8.7M project, which will store 180 million gallons (approximately 681,375 m3) annually for the City, and which, through the Deschutes Basin groundwater mitigation program, also returns an equal amount of water to the Crooked River to maintain instream flows. This approach demonstrates the value of taking time to understand the specific context of each basin, and devise solutions through partnership with other stakeholders that can address the drivers of water stress and the needs of all users.
Heineken - Heineken Spain launched a project with landscape restoration expert Commonland and the Andalusian government, to restore four degraded lagoons in the wetlands of Doñana, near Seville, by improving soil structure, water filtration and replanting trees. The brewing company's aim was to compensate and return 420,000m3 of water each year to Doñana. Research reveals the project balanced more than one million m3 of water per year, doubling the initial target and creating a successful template for restoration globally.
San Francisco Public Utilities Commission - The San Francisco Public Utilities Commission's pioneering approach to water reuse is working on both a state and national level in the United States, helping to establish guidance and policy frameworks. Its achievements include leading San Francisco to becoming first city in the US to mandate newly built buildings, of over 250,000 ft² (approximately 23,225 m²), to install onsite water reclamation systems.
South East Water, Australia - South East Water, Australia Aquarevo is a unique collaboration between Australian utility South East Water and developer Villawood Properties. They have created a residential development, south east of Melbourne, where homes feature an unprecedented range of water-saving features, such as a system that captures rainwater for use in baths and showers, as well as in-home water reuse technologies to ensure efficiency standards and monitoring. The development is on track to become Australia's most water efficient urban housing development.
The Glenmorangie Distillery - The Glenmorangie whiskey distillery, in the far north of Scotland, overlooks the protected Dornoch Firth. In a unique research and action partnership, Glenmorangie has collaborated with the Marine Conservation Society and Heriot-Watt University, Edinburgh, on a project to preserve the current diversity of marine life and reintroduce the rare European flat oyster. The project led to the return of 20,000 oysters and Glenmorangie is now helping conservationists restore oyster populations in at least 15 European countries.
Intel - Intel has invested in multiple watershed projects through collaboration with The Nature Conservancy to fund a portfolio of projects that solve local water challenges. Their goal for 2030 is to achieve net positive water use by conserving 60 billion gallons (227 million m3) of water and funding external water restoration projects. In Bangalore, India Intel partnered with Clean International who is working with a local NGO. Bangalore was famous for its lakes which have been degraded by pollution. Together, they are rebuilding the natural infrastructure of the lake, that was there at one point to promote groundwater recharge. At Lake Nanjapura, they are excavating sediment, taking the sediment that they recover and building a walking path around the lake, planting trees to shade the water to create a natural storage bowl for water, thus making sure that no drop of water is wasted in this dry region and every drop of rainwater is stored for future use.
Xylem and Manchester City Football Club - Water technology provider Xylem and Manchester City Football Club launched a partnership to "challenge water complacency among one billion people globally by engaging football fans and the general population". Over the past two years, the partnership has exceeded all expectations by a gaining total reach of more than 770 million engagements across all platforms, including through an awareness-raising film and a unique Football & WASH (water, sanitation and hygiene) Education Framework. This partnership is educating the general public on water and encouraging water awareness and stewardship globally.